Your guide to everything under the moon, the Amber Moon, for starting 11/21/22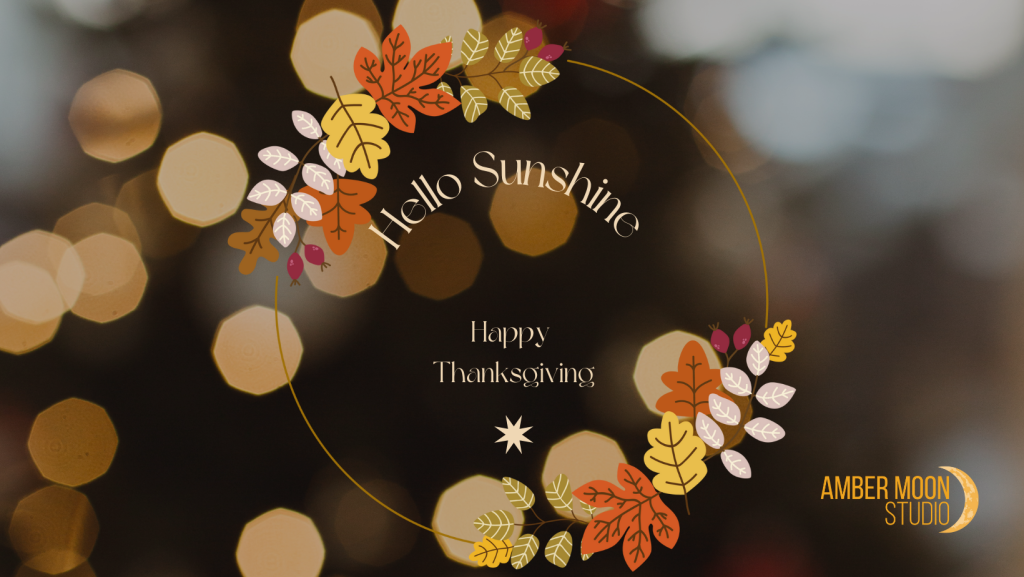 Happy Holidays! Let the festivities begin!
I admit, instead of festivities, I'm prepping for surgery. All these things to complete beforehand, prepping for what Cousin Amy is gonna need to know while she's here making sure I behave myself & recover quickly. Lists, spreadsheets, house projects, Planksgiving videos. And in case I get a spot from someone else cancelling, I need to be ready. I just passed the 3 month mark from the injection that didn't work, so I want to be prepared. I'm 10 weeks from my scheduled date. I'd really rather not wait that long.
Luckily, I'm a planner. This stuff makes me happy. I can plan the heck out of it.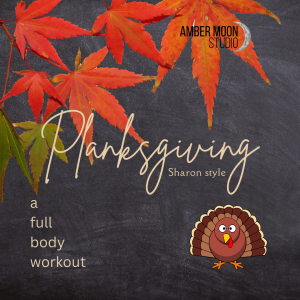 Planksgiving!
Two more weeks to go! I admit, when I started this I only thought it was 4 weeks of Planksgiving, but since we are going ALL MONTH… and I'm getting feedback that people are more aware of their "rectangle" and enjoying the workouts. I would love your feedback too! You've still got plenty of time to start and work at your own pace. You are totally worth 10 min dedicated just for you. Get going now. As I mentioned last Hello Sunshine it'll be part of the 12 Days of Fitness, plus it's open on my YouTube channel. You got this. It's starting that is important!
12 days of Fitness
Because consistency and doing something is important, especially over the holidays. This is a 12-day cycle, rotated thru 3 times, to get you into the New Year. It alternates cardio of choice (walk, run, push the stroller, swim, etc) and strength/stretch – using my YouTube channel for a well balanced plan. If you're just starting a fitness program, the first 4-6 weeks is all about consistency, about showing up. Follow this plan, and you'll be golden. Already into your fitness routine? Hopefully this offers you something new, something different.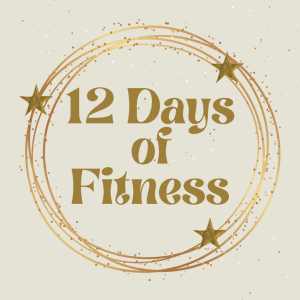 On day 2 of each round, you'll have a 2 mile walk that you keep track of – track time, whatever your route was so you can repeat it, weather conditions (see the effect). Not a walker – and let's be honest, I'm not at the moment (sad emoji) – you can choose a different mode – bike, swim, roller blade, and use that on each day 2.
There IS a prize at the end of all of this – for those that report the time from Day 2s there will be a drawing. Report by emailing me, noting on a social media post. I'd also like to know you are also participating, so commenting on YouTube or Facebook/Instagram is the way to do that. More details to come.
If you are following me on Facebook or Instagram, these will be posted there. If you do better with daily emails, let me know. There's no "registration" this time. I'll just note those that want it emailed and get you set up that way.
Ready? Here it is:
Day 1 – Awesome Arms video
Day 2 – 2 miles of continuous walking (note time for future rounds) – or bike, run… push a stroller… you choose. Just be consistent with it in Rounds 2 & 3. Also note your route (outdoors), or other variables that can show improvement (time, resistance, etc. )
Day 3…Plank exercises, Sharon style – do a Planksgiving video
Day 4…4×8 min of cardio (same mode, or mix it up – "cross train" – do all in one fell swoop (1 min recovery in between), or break them up across your day – just make sure to get them in!
Day 5… 5 min of a viniyoga class – you can even fast forward 5-10 min into the class and start there – open up the body! Prefer vini-chair-yoga? That works too.
Day 6 – 6×6 min of alternating cardio modes (types of movement – "cross training" – pick 2 modes minimum)
Day 7 – Lucky #7! Do an Everything Under the Moon video
Day 8 – 8×4 or 8×6 cardio sets, 1 min recovery or break it up thru the day
Day 9 – 9 min of a Pilates Mat video
Day 10 – 10×5 min sets of cardio – increase intensity w each 5′, same mode all the way thru – a short 1 min break in between – decrease intensity or stopping
Day 11 – 1 Awesome Arms video AND 1 Planksgiving video. Pick new ones.
Day 12 – 12×3 or 4 min of cardio intervals. You can break them up through out the day, or do a 1 min recovery in between
Studio hours update & openings for the next 2 weeks
It's getting a little crazy over here, in the best possible way. I am opening up a few slots from now til surgery just to get people in. So, if you need something that's not listed, let me know. I might be able to make it open.
Taylor openings
Fri, 11/25, 8a-130p
Fri, 12/2, 9a -1030a
Austin openings
Next openings listed below. Subject to change, please check online regularly.
12/7 & 21 at 545p, 45 min.
Class schedule update
If you're wanting to get the most of your class, and if you're new to me, I recommend a few personal sessions either in conjunction or before attending classes. I'm also finding I'm doing less, so I get to focus more on YOU right now. Which translates to more feedback during classes. I'm also offering more options & variations – again, might be a good time to start!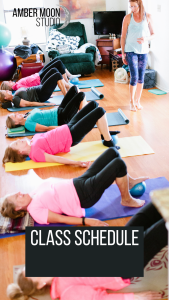 Tuesday
Wednesday
Thursday
EOY class special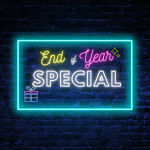 Now thru EOY, pay for a 1h class, get a 30 min class free. Good for packages and drop ins, but you'll need to buy the package just for these specials. Will run thru end of year. Why? I want you to try new things!
Links for the following EOY Specials (drop in rate – give it a try!) – $18 for 2 classes. These packages good for 2 weeks from date of purchase.
Links for packages are here, and I'll add the equivalent 30 min class package to your account. These packages good thru EOY.
Decide if you want Tier 1 or 2 (differences in price & how long you have to use them)
Decide if you want 4 or 8 Livestream classes
Your account will have an equal number of 30 min classes added