Please take the time to take care of YOU this holiday season! Enjoy your time with family & friends.
The athletes that I spend my early morning & Monday evenings with had their first 10k race of the season this past week, at Spicewood Vineyards, which is why this is out late. I wasn't home much this past weekend. I'm still getting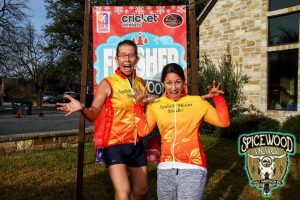 caught up. Of the 7 athletes that went, 5 placed! I'll take it! Elizabeth & I, being "just" volunteers, had a little bit of free time to kid around and do some shameless self-promotion with the new Amber Moon Studio wear.
As we get into winter, I hear that some of you have a hard time finding the house when the plants move inside. Good news! A favorite and long standing client, Sara, is moving (not the good news), and I'm getting her outdoor potted plants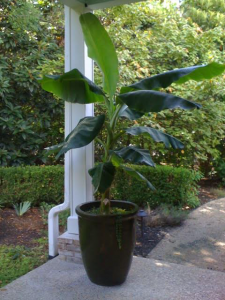 . They are HUGE. I mean 3 or so feet tall, and that's just the pots. You'll see 'em. While I'm very sad that she's leaving, I'm happy that she's going to be close to her kids & grandkids. She was my first practice massage client when I was in school (Mar 2008), and the rest, as they say, is history. Yep, we've been together over 9 years!
"Sharon has helped me with injuries, post-surgery recovery, and general fitness for the past nine years.  I have great respect for her — her professionalism, her knowledge, and her commitment to her clients.  Every time we work together, I know she'll challenge me and apply new things she's learned to keep it fresh for me, and we laugh a lot during the process." Sara M. 
Best of luck & health to you in your new adventures, Sara! <3
Reminder as we get into flu & cold season: if you think you are sick, or know you are sick, please cancel. I know you might think a massage would feel good, but you could pass those pesky germs on to me & my other clients. Ditto if you have sick kids.  While I do have a 24hr cancellation policy – if you're sick, I don't charge you.
In this post: 
Pilates classes for December
Tower Garden Times
Plumeria for sale (donation to Austin Dog Alliance)
Studio Schedule & Closings
Pilates classes  for December
We'll have 3 evening classes & 4 morning classes this month. No PM class on Dec 13.   All $12 per class if you pay for the month, drop in rate is $15 per class.
Amber Moon Studio Turkey 10 miler
We haad a great turn out & a good time at the Turkey 10miler, in addition to raising over $150 for South Texas Persian Rescue! More fluffyfluffys can be helped thanks to YOU!
Tower Garden Times
Juice Plus now has an Omega Blend – not just your standard 3, 6 & 9, it also includes 5 & 7. I never knew there were more! Minimally processed, vegetarian (algal oil vs fish oil – cuz fish get their oils from algae, JP is cutting out the middle… fish…) Read more about it.   Ready to try? let me know, or visit my Juice Plus website.
Winter time – my Tower Garden is tunred off, and waiting for me to clean it out in preparation for either more winter veggies (the leafy green stuff grows well in winter), or starting to prep for Spring. Want more info on the Tower Garden? Visit my Tower Garden website, send me an email, give me a ring!
Plumeria for sale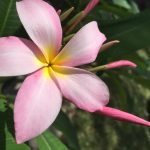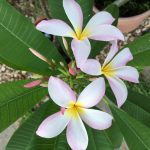 My vet sells plumeria plants, seeds & seedlings, with the proceeds going to the Austin Dog Alliance. I'm helping her out and pimping them here. Plants – $20-25; seedlings – $5; packet of 10 seeds – $5. Plants are a variety of colors, and the seedlings/seeds are a mystery. She's got a plumeria addiction, and they cross pollinate. If you want the donation for your tax write off, please send email me your receipt prior to delivery/pickup. Otherwise cash is preferred. I only keep a few in stock, so let me know what you want something so I can make sure it is here. Current stock: 2 plants (Mardi Gras, and Violet Jack colors), a plethora of seedlings, and several seed packets. Let me know which you want!
December Studio Schedule & Closings
Closings –  Christmas (12/25), New Years' Day (1/1),  Out of office (1/11-18)
Mondays – 2:45-7:45p
Studio hours: 2:45-5p
6:30-7:45p Hill training for Runners, thru Northwest YMCA
Tuesdays – 5:30a-4p
Studio hours: 8a-4p
5:30-6:45a Hill training for Runners, thru Northwest YMCA
Wednesdays – 10:45a-6:30p
Studio hours: 2:45-6:30p
10:45a-12p Viniyoga at the Y
5:30-6:30p Pilates Mat Class at the Studio
Thursdays – 5:30a- 4p
Studio hours: 845a-4p
10-11a Pilates Mat Class at the Studio
Friday 5:30a- 3p
Studio hours: 8a-3p
5:30-6:45a Run Coaching for Austin YTri