Your guide to everything under the moon, the Amber Moon, for 7/4/23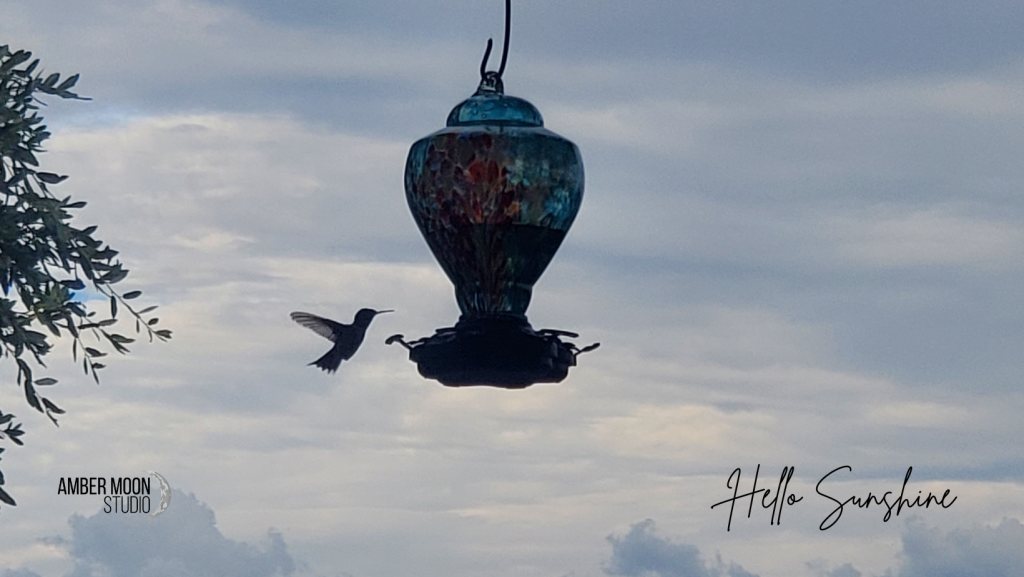 Yeah, I'm a day late. I'm posting this on a holiday. A Tuesday. Happy July 4th!
I gave myself the luxury of a tech free weekend, a quick get away. This HS's pic comes from sitting on a deck at Inks Lake, watching these glorious little hummingbirds flitter about. It kind of captures the whole weekend.
Ahhhhh.
Just a little time away. Haven't really taken anything big – much less away – in a year, since the knee started acting up & getting ready for replacement about this time last year. I've taken time off, but not away. That was the key. Also had to get my critter sitters re-acquainted with protocols so I can take a bigger vacation later, before Knee #2 enters its next phase.
Knee #1 is progressing nicely
My right knee is continuing to get better. I'm actually getting "dents" in the upper half – it's had a lot of inflammation since it got tweaked in 2019, so this is super exciting for me to see! I posted this morning on my FB & IG pages that today was the first day the ankle didn't take 5 min to warm up & start behaving correctly. I just got on Hunts with Hawks (my mountain bike), and it behaved. Which also means the knee felt good. By the end of the ride, both knees were actually feeling strong!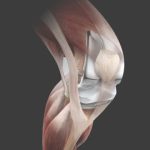 And THEN….
I went for a swim. Normally as I do an open turn to go back the way I came, I have to favor the R knee. Not today! It was the one I pushed off with! It felt like I could get my hips into the wall, bend the knees, and get a good push off. Again, a surprise! I'll take it! The left knee (#2) is getting a little cranky these days, so the right working better is a good thing.
And THEN….
My water bottle spilled a little, I thought I had cleaned it up. Alas, I started to slip on it a little later (post-swim), and caught myself, and did an actual graceful slide to sitting on the ground. Neither knee protests. Neither knee touches the ground. Both knees bent well. No consequences. Whew.
I've come a LONG WAY. Again, it goes back to daily TLC.
Support Sharon's Ride: Texas Mamma Jamma training update
Basic info, cuz I shouldn't assume you know what this is all about: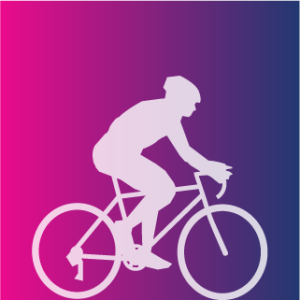 Funds raised for the Texas Mamma Jamma Ride supports the Lone Star Circle of Care's Big Pink Bus. The Big Pink Bus offers free or low-cost breast cancer screenings on a state-of-the-art mobile mammography bus. Patients receive high-quality 3D breast imaging services. Lone Star Circle of Care qualifies eligible uninsured patients for safety net programs, and a sliding fee scale will be available according to household size and income.
The Big Pink Bus began offering mammography services in July 2021.
I've now got my fundraiser linked to facebook, as well as the regular page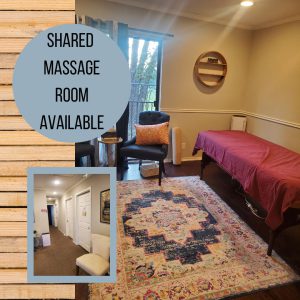 Austin Studio space available to sublet
I've got someone coming in September 1 on Mondays & Tuesdays, so that leaves regularly schedulable times on Thursday & weekends. And on Monday & Wednesday until he gets here.
Fully furnished.
BYOS & Massage supplies.
Our room also has a slider & small balcony. Includes hall bathroom, small kitchenette/break room.
Lake Creek Parkway & 183/Northwest Austin. Easy access.
$150 – $350/mo, depending on how often you want to use.
Hourly option also available.
I'm there on Wednesday, 1-2 Fridays per month.
Room will be repainted & décor updated soon.
What day works for you?
Taylor & virtual sessions
Taylor hours:
Tuesdays, 11a-630p
Thursdays, 12n-7p
Fridays, 8-130p (or until 12p the weeks I'm in Austin)
Here's what's available for the next bit.
Thurs, 7/6, 245p (LMK if you're wanting & it doesn't show)
Tues, 7/18, 245-430p
Thurs, 7/20, 1-430p
last minute openings happen – keep checking in or ask please!
Austin sessions
Massage, craniosacral therapy & personal training are now available at this location! Friday hours will be 130-4p, cuz I don't want to deal with traffic, and I start at 8a. See below for dates. You will need to contact me directly to schedule Fridays.
Wednesdays, 1-630p
Aug 2, 1p
last minute openings happen – keep checking in or ask please!
Fridays – 130-4p
July 14 (full)
August 18 (full)
September 8 (full) & 15 (full)
No dates in October/November due to Bionic knee #2
Dec 8, 130p open
last minute openings happen – ask please!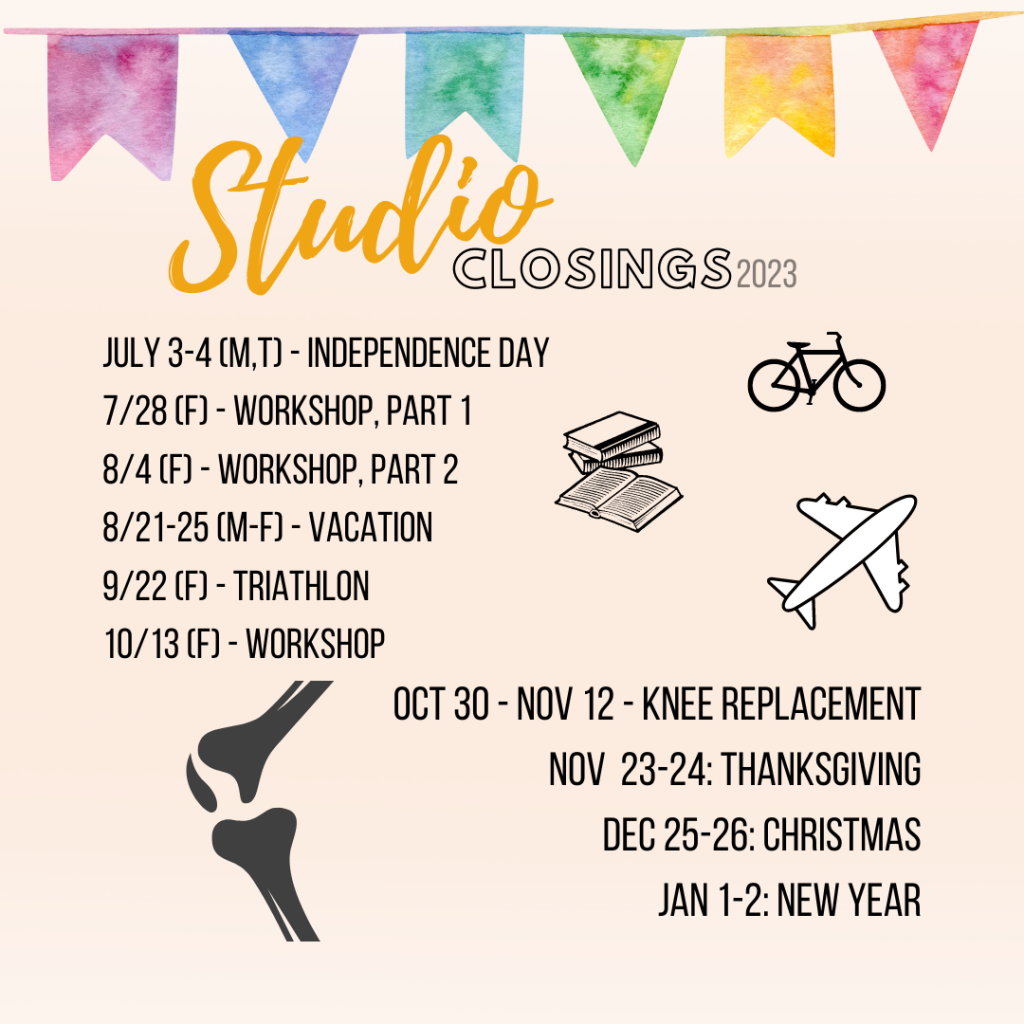 Class schedule
Sign up here. Please note some shifts are happening now. A few more to come when cross country starts.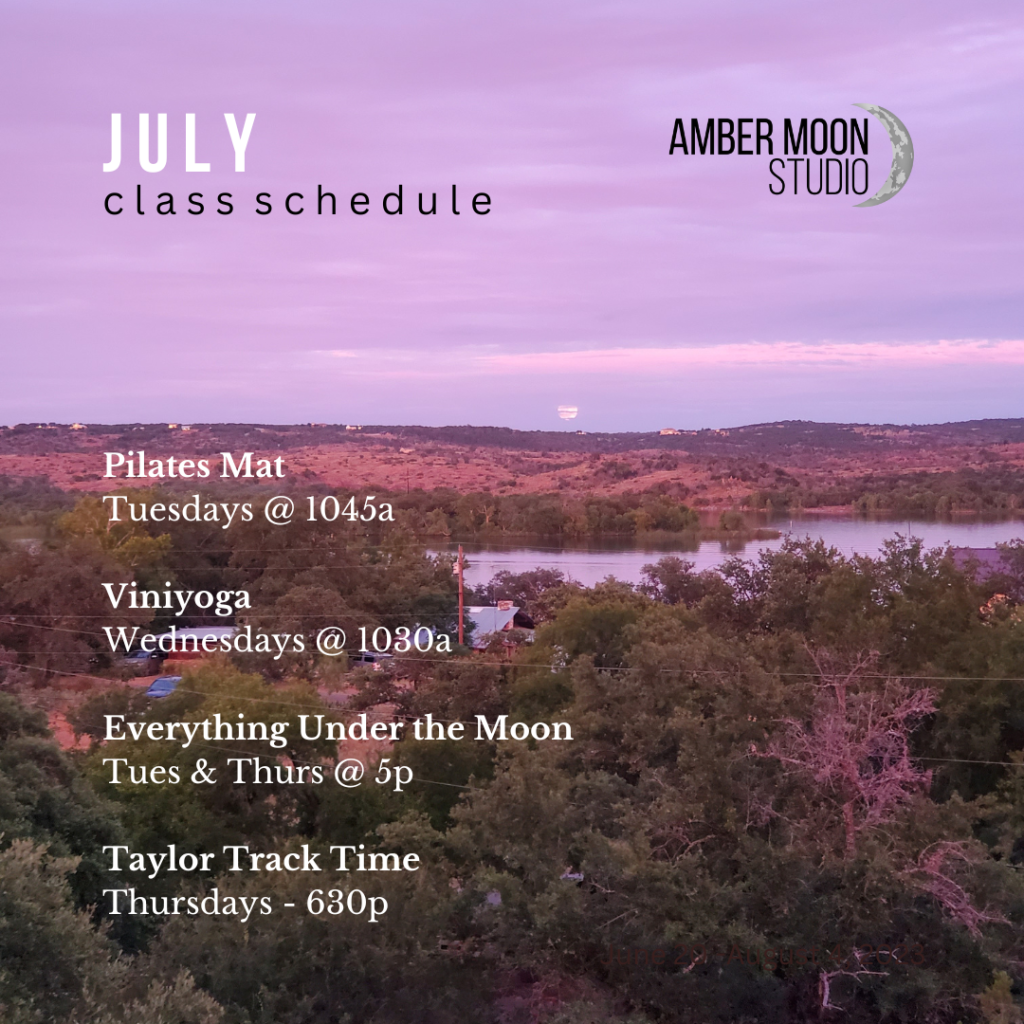 Another pic from the deck at Inks Lake. That's the Moon peeking through.
Whew that was longer than I anticipated… Lots going on, and even more coming. I appreciate you reading this far! If I said something to inspire you, I'd love to hear about it!