Joy of Cooking. It was my favorite cookbook as I was growing up. And the one I brought with me when I left for college. While mine is certainly outdated by now (copyright 1975), I have learned – and continue to learn – lots of good things from it, and still serves as a basis as I explore new foods. This book of knowledge has influenced all of my baking greatly as I create my #sharonfriendlyfoods. I know it's easy to go look things up online today as you have done to get here, but it's also nice to have a foundation in something. The jacket on this cookbook is well-worn. I love it the way it has stained. I have notes in the margins. I cross things out. I add my own ingredients. I have a sticky back for my commonly used pages. Joy of Cooking laid the foundation for where I am right now.
One of the features I've been using of late is "Know your ingredients."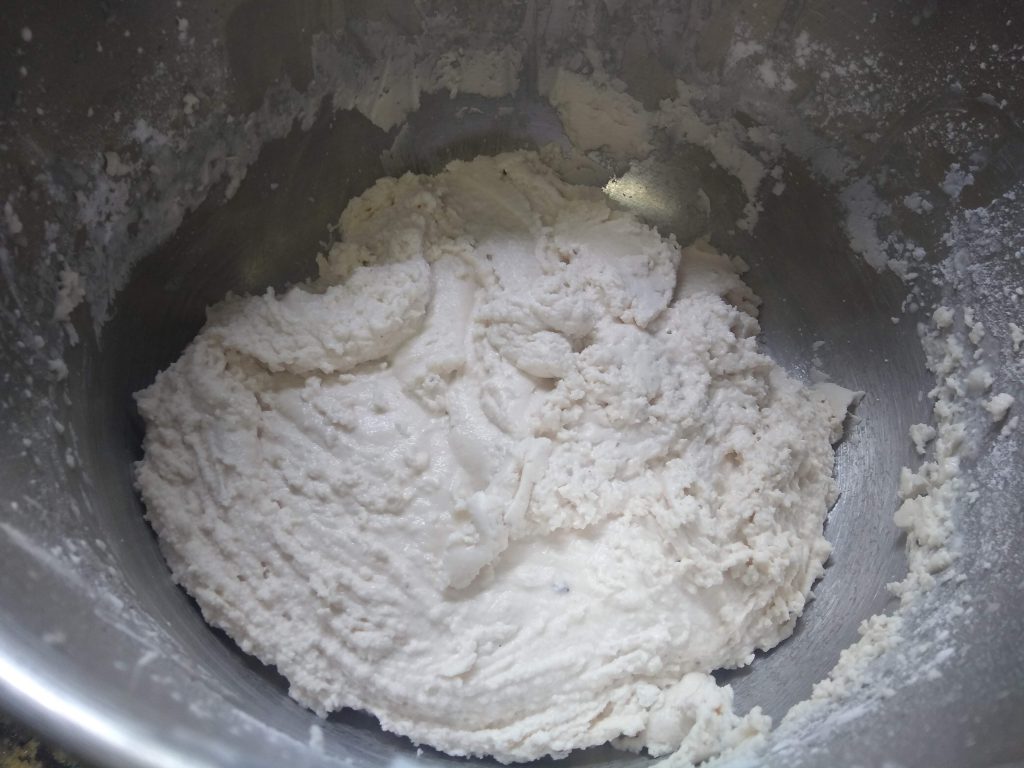 While my version of Joy of Cooking does not have a mention of cassava flour in the flour section (it is mentioned elsewhere), it does have some interesting information on other flours such as
With whole wheat allergy substitutes sift together 6 x 1/2 cup cornstarch and 1/2 cup of the [gluten free flour]. 
Use 2 teaspoons of baking powder for each cup of flour mixture. 
If using cornstarch or rice flour, be sure to avoid the waxy types [of flour].
Interesting, huh? So good info even though it may not be completely up to date, and it gives me a basis for and the foundation for wanting to know more about my ingredients.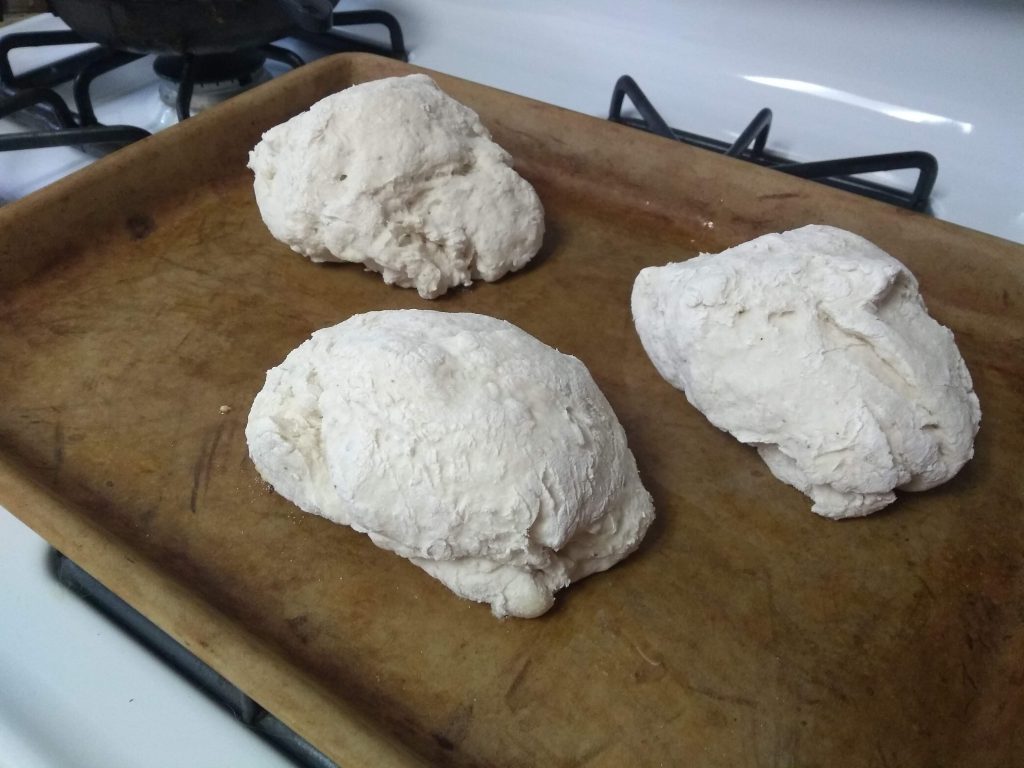 As I explore cassava flour, I'm finding out lots of interesting things in my efforts. It sometimes feels like expensive learning, especially during these lean COVID times. Keep in mind a 5 lb bag is about $18 from Amazon. Arrowroot flour – the other one I use – is $15 for 4 lb.
As I embark on this journey I'm sure I'll be sharing more things with you, but today's post is going to be about cassava flour bread – grain-free, gluten-free, corn-free. I admit I have been missing bread terribly. Every now and then I just want to cry but I've been craving of late is a cucumber sandwich. I have a friend that never heard of a cucumber sandwich and she's my age. That boggles my mind. I digress. So as I'm exploring the use of cassava flour, I admit there have been several duds – and by this I mean only compost bin worthy. It's like you've used too much gluten substitute. But I didn't have any in there. The one where I did equal parts cassava flour and starch flour has been the best, but then it collapsed as it cooled. So I'm wondering again from Know your ingredients, if, like muffins,can you overmix or something, does it also collapse? Or is it just me?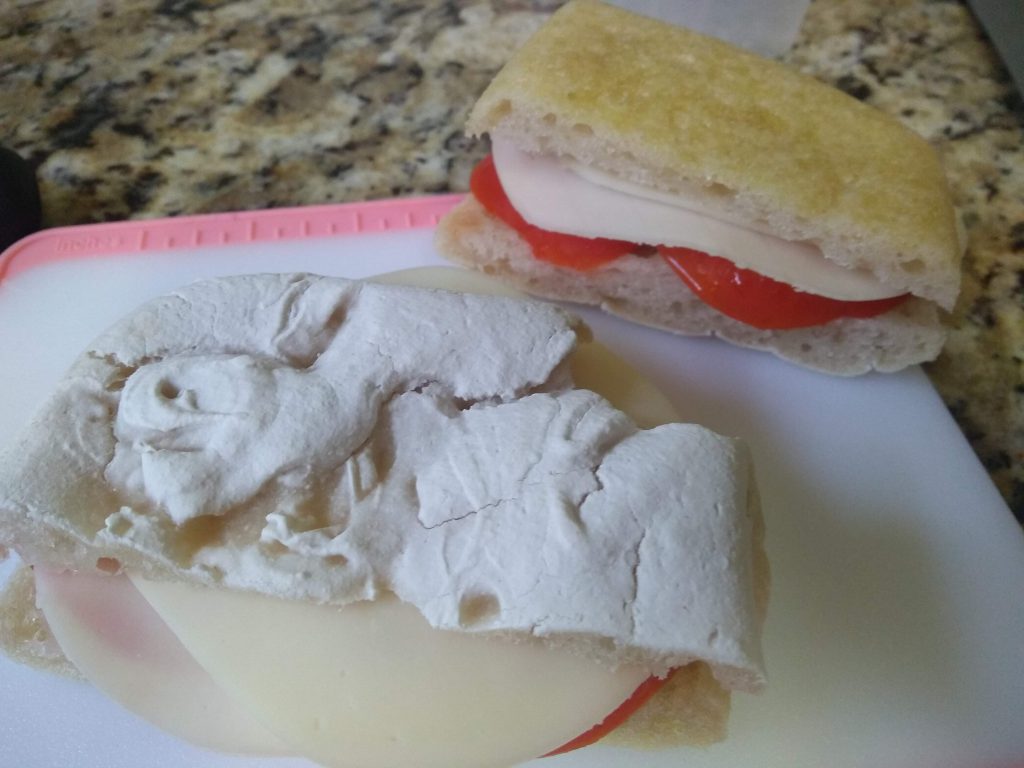 In order for your bread not to collapse after baking, you need to create a framework for it. In regular bread, the protein from gluten does that. So cassava flour has protein per 2g per 100g of flour (2%). The common bread flour should have a protein level of 11%. "Strong" flour, 14% protein content. We don't have that here. Cassava needs structure. So I've been playing with Xanthan gum.
Observations on Cassava flour:
It's very dense. Which is OK for pancakes, not for bread.
It absorbs liquid like nobody's business. Use more liquid, or less flour if you've no xanthan gum in there.
It CAN give you that nice "regular bread" texture and taste. I've been successful in getting that, albeit in a "flat bread"
It plays well with cornstarch or arrowroot powder.
The extra baking powder makes a HUGE difference.
I've tried the "paleo cassava bread" – eh, not my cuppa tea. 4 eggs. Very dense. I want light and fluffy. So I continue my journey.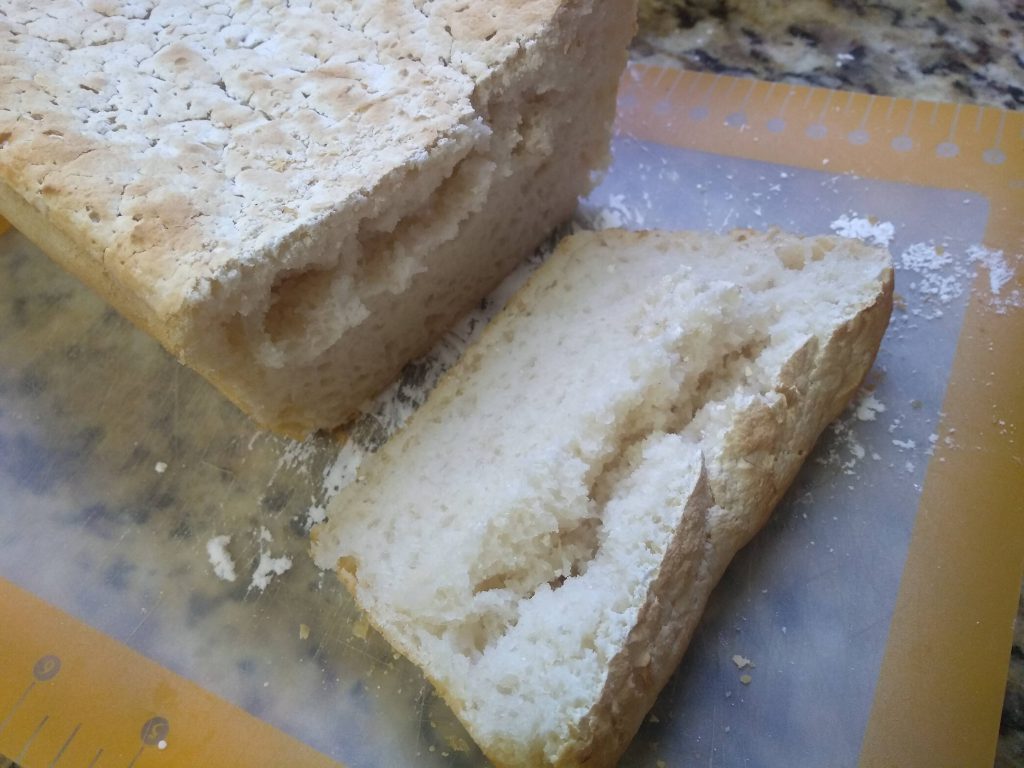 I know you want a recipe for today – and I'll give you one, but its not for bread. Yet. It's for some amazing pancakes – with straight cassava flour, and a bit extra baking powder. Realize, I just toss everything into my magic bullet – no measuring. So I'm going to encourage you to do the same – play with your food! Or start with your favorite recipe, and go from there.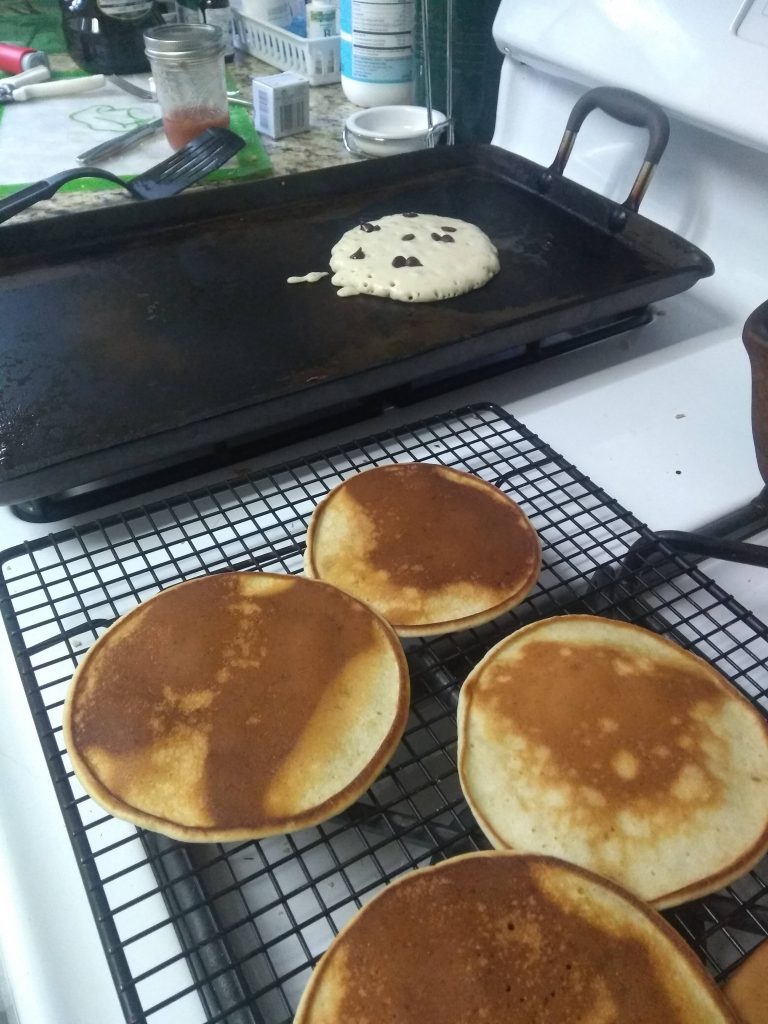 Banana – Chocolate Chip – Figgy Pancakes
Into your Magic Bullet (or blender type thing):
1 egg
Milk of choice
1 banana, peel removed
Cassava flour – a few spoons
Baking powder
More baking powder (2x what you'd normally use)
Oil
Blend, adding more milk or flour as needed to get a consistency for the type of pancake you enjoy.
Heat your griddle, oil if needed, and then pour the pancake batter on. Add chocolate chips to each pancake – you decide how many. I use chocolate more as a seasoning, but you may want more. When your bubble appear & disappear, flip. Oooo and Ahhhh over how great they smell & look. Cook a few more minutes till done, then top with sliced figs, homemade fig jam, and anything else you choose.
No, there's no sugar – you've got the banana. You don't need it. My fig jam in the pic is homemade (also no sugar).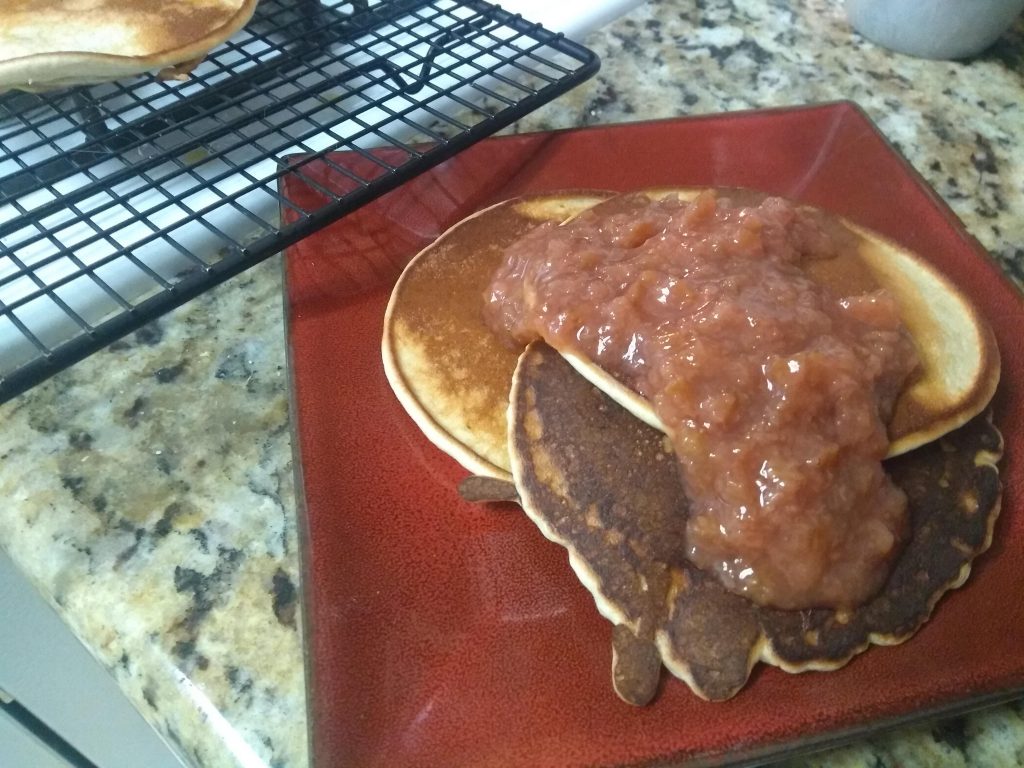 I know, you want the bread recipe. It's coming. I'm playing. Still.