I have managed to already get Mondays completely off from seeing clients and being online, and I'm loving it. Those of you that shifted to let this happen – thank you! And on to the good stuff…
Yoga Saves Lives
Do YOU want to save lives? Do YOU like flat faced & fluffy tailed cats? Yes? Yes! Join us for a Viniyoga class benefitting South Texas Persian Rescue.
This is for the rescue where I adopted my current 5 cats. Beth & Lori are like family, and Persians, I can tell you from having been owned by 8 of them, are high maintenance. The more money they raise, they more fluffys they can help. So, Yoga Saves Lives. You save lives.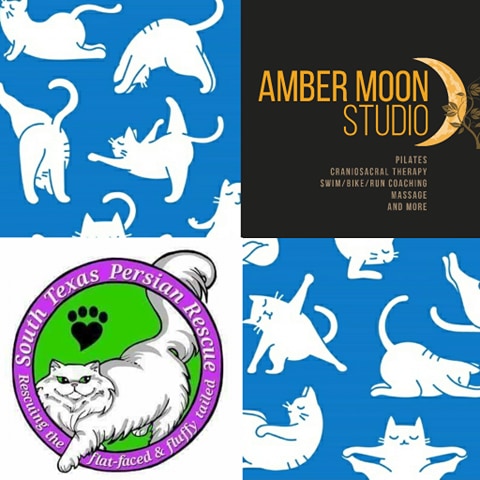 Want to see what viniyoga is, and see my fluffys? I've uploaded classes I've taught where parts of my herd showed up.
Join us Friday, 7/31, at 12n via Zoom. Registration is $20 and 100% of the profits goes to South Texas Persian Rescue.
Have YOU signed up yet? Help the fluffys! Do some Viniyoga! Share this with your friends!
Massage: The Driveway Series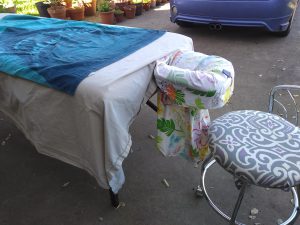 If you've been wondering what it's like to get a massage on the driveway… here ya go, from an client:
Last night I received my first driveway deep tissue massage and it was great! I haven't seen Sharon since March and I was really in need of some work! She makes the driveway very comfortable by having lots of plants to help block the view from the street along with your own car parked in the driveway. She also had the fan going to keep me cool! I appreciate Sharon thinking outside of the box for her clients! Thank you!
Note: I've also got several mosquito repelling plants near where I set up. While this client was on the table, I didn't get a single bite. And skeeters looooooooove me.
Ready to book yours? Options are Tuesday, Wednesday & Thursday evenings; Wednesday & Thursday at 630a (1 slot). Need something outside those times? Ask 🙂
A little of everything else
I have had 2 Amber Moon Eatery, "Amber Eats" posts so far. I'm including the link I'll be posting tomorrow – the page is already up!
I'm also about to upload these to Patreon, Facebook and Instagram. I've started an Athlete Education blog, and that will be uploaded to the athlete option for Patreon. Still working on getting more stuff uploaded, free content (YouTube & Patreon), so give me a little bit. My neck is still misbehaving gently and I'm still being mindful of how much computer work I do, when I'm rotating my neck in class, and when how it feels when I'm playing.
I posted what I thought was a very interesting article on air circulation & massage on my Facebook page – a review, complete with reference links. It was interesting that they said turn ceiling fans off during massage, and open the space up for fresh air after. Yes HVAC is great if you have the right filters, but you still need tobring in fresh (outside) air after in-person sessions.
And AMTA (American Massage Therapist Association) strongly suggests we avoid working right now, if we can. I think the Driveway series is a nice compromise.
I'm very sad I had to cancel all of my September trip – the race had been canceled previously but we had held onto hope that my immunologist would say it was okay to travel. She did not. My next big event that I have coming up is the Mesa Marathon (Arizona) in February. But with what the immunologist said, it looks like my option to travel there is not good either.
Online classes
Current schedule, as of 7/20/2020. Please register in advance.
Tuesdays
11a, Pilates
1215p, Viniyoga in service of Meditation (Viniyoga>>Meditation)
Wednesdays
1030a, Viniyoga
1145a, DIY Reformer
Thursdays
Fridays