Your guide to everything under the moon, the Amber Moon, for 5/15/23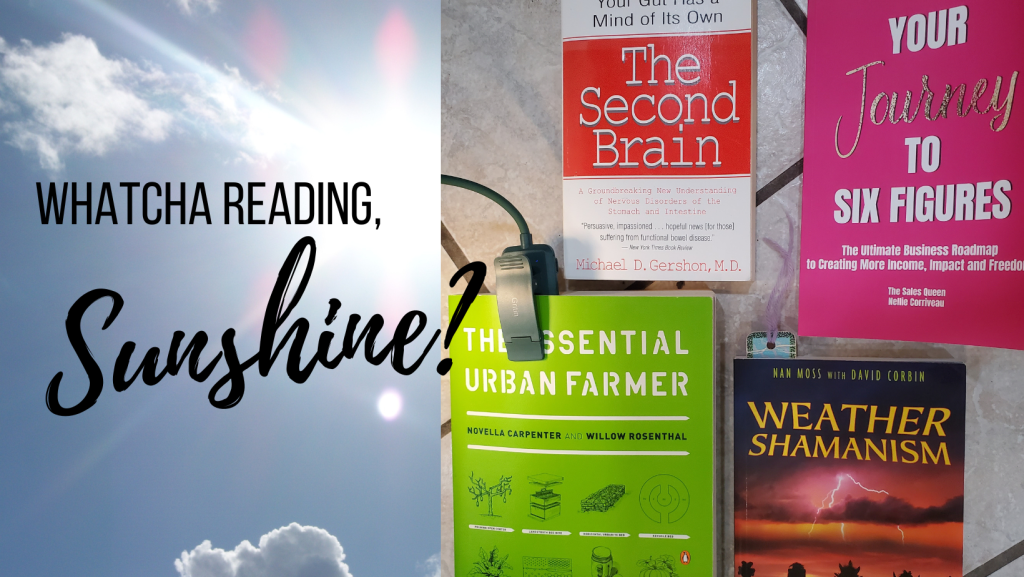 I recently realized I have 4 books going. No, make that 5 – 1 is on Kindle for times i'm waiting between clients, at various out & about things. Anyone else do this? I keep Weather Shamanism in my Austin Studio bag, and partake of a few pages between clients. The top 2 books are by my bed, to gently fall asleep with. The Urban Farmer is beside my recliner, and typically read a few pages with morning coffee, and when I do the longer icing on my knee (20 min on, 20 min off, 20 min on – need something to help pass the time!). My Kindle book is on coaching. Is that enough variety?
But here's my issue, courtesy of my high histamine response (part of my overall immune issue), I am not able to read long before the brain goes to mush. I've gotten better with the infusions, but it's still a challenge. I can read about 20 min before I need a break. The last book I really focused on finishing 'quickly' still took about 6 months.
Today I was thinking about my friend & bizbestie Ryan over at Organizing4Good. She's a big advocate of audio books. While dislike and intolerance of sound is also a part of high histamine response, it's actually gotten a lot better since the infusions. I've also found taking these Systems Integrated therapy courses virtually for the past year that I really learn well that way. So why not give books a try? I started one – yep, that makes 6 in progress. It was great to do dishes & cook breakfast & get a few chapters under my belt. My next question will be if I can listen while driving into Austin. That would be some productive time! I can hear Ryan now, "Yaaaaassss!" We all get there in our own time, right?
Oh, the audio book? Next Level by Stacy Sims. "Your Guide to Kicking Ass, Feeling Great, and Crushing Goals Through Menopause and Beyond". I've got a lot of clients entering into this, including myself. I'm gonna have them all covered. Yeah, that DOES make 2 coaching books.
Friday question
If I opened up more sessions in Austin on Fridays, would you come? I need 2 to make it worth the drive in. I still don't want to do it weekly, but maybe 1 Friday per month each – driveway & in studio? I'd love to hear your thoughts.
Texas Mamma Jamma training update
I've started! Last Friday I got in my longest ride yet – both in terms of distance (my first double digit mileage to boot!) and time. Knees, ankles and all associated muscles felt it the next day – in a good way. In March, I biked a total of 9 hours. It's only mid-May, and I'm almost at 6. I'll call that progress! Knee feels better every day. Biking every other day has been most helpful. Consistency really is key.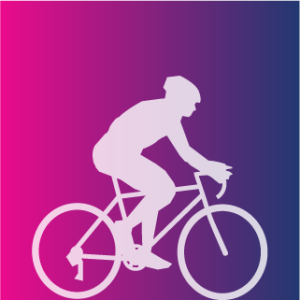 Next up, I add in more strength training. Stronger legs = better biking, better knee recovery when I have #2 done (still TBA).
If you're interested in joining in on Texas Mamma Jamma, please take a moment and fill out a questionnaire so you get on the list!
Not ready to commit to biking, but willing to support me?  Donations being accepted now thru 9/15/2023. If you prefer, you can send to me, and I'll add it to the fund – just specify that it's for TMJ.
Guinea pig update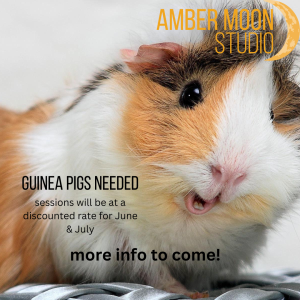 I'm in a learning phase right now. I've got 2 new sessions I'm working on that I am gonna need people to practice on very soon. More info to come very soon.
Bioenergetics – how in-balance are you with the world around you AND within you?
Body Symmetry Corrective Training – hips a little off or rotated? One shoulder higher than the other? This will help.
Specials – now & upcoming
It's the last week to try a virtual class FREE…
Now through end of May, the first 5 new class attendees get any of my virtual classes for FREE. Your choice of :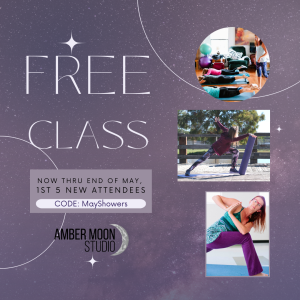 Pilates Mat (Tues 1045a, 1h)
Everything Under the Moon (Tues & Thurs 5p, 30 min)
Viniyoga (Wed 1045a, 1h)
Vini-Chair-Yoga (Thurs 11a, 30 min)
Use code MAYSHOWERS, and hurry! Must be used by end of month, and once 5 are registered, that's it.
Limit 1 per person. What makes you new? Have you been to a virtual class of mine before? No? Then you qualify!
Ready? Set! Sign up! Do it right now, then mark it on your calendar. Right now.
and for June's New Client Special to start!
Prepay for Personal Pilates, get a class free. I find this is a really good combo for new people. Quality time for 1 session, exposure to group stuff and trying things under less guidance, and then circle back around with questions during your next personal sessions. I'd go ahead and schedule now while I've got more openings.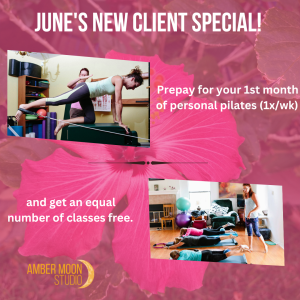 I've you've been doing other sessions with me but not Personal Pilates, this is your chance to get it on it. Maximize your results. Once you get it on the calendar, I'll send you a coupon for classes so you can pick and choose, see what works for you.
Prefer Personal Training instead? Ok, I can make that work instead of Personal Pilates.
Class sessions must be used the week of your personal sessions.
Taylor & virtual session updates
I have added a Tuesday 545p slot that's not going to show. You'll need to ask if it's available. Why is it not showing? Cuz there's only a 15 min break between EUTM class & this appt. Here's what's available for the next bit.
Thurs, 5/18/23, 130 & 315p
Tues, 5/23/23, 330p
Thurs, 5/25/23, 345p (45 min session)
Austin updates
Breaking this up by days – since you probably have a preference what works for you. Schedule your time ASAP!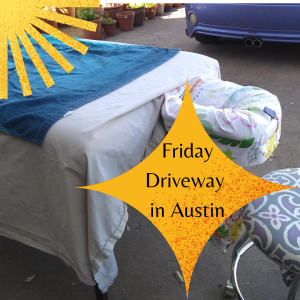 Wednesdays
uhhhh…..see my question above about Fridays…
Fridays
Book your session now to make sure you get it in!
June 23, 130-4p (now open for scheduling)
July 21, 3-530p
August 18, 130-4p
September 15, 130-4p
Studio closings
5/26-30 (F-Tu)
7/3-4 (M-Tu)
8/21-25 (M-F)
10/5-6 & 12-13 (Th-F) – virtual conferences
Thanksgiving & Christmas breaks TBD
Class schedule
Tuesday
Wednesday
Thursday
Whew that was a LONG one… Lots going on. I appreciate you reading this far! If I said something to inspire you, I'd love to hear about it!