I started on immunoglobulin replacement therapy in late 2019, and was testing and adding things in slowly. When I was finally able to start playing with my food again, one of the first things I decided to make was Pizza. I missed Pizza. I craved Pizza. Pizza happened in December, and there's been no going back!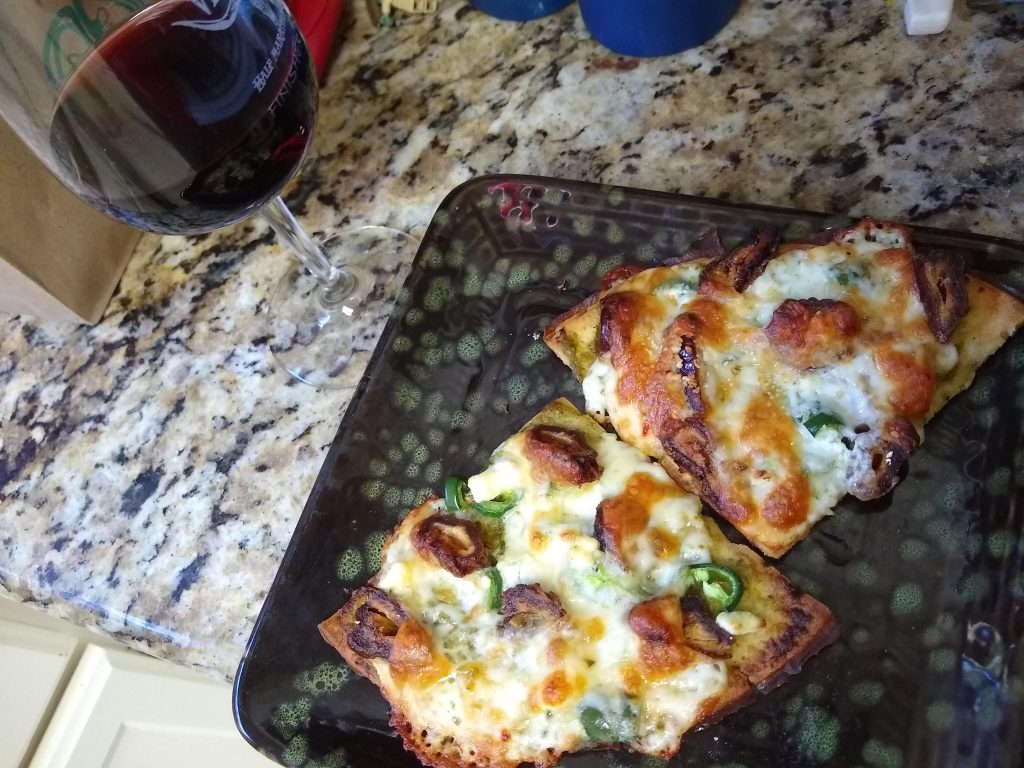 Pizza. One of those feel-good, nice and cheesy, warm things that just that soothes the soul. The first pizza that I made, I was actually a craving – date, jalapeno, goat cheese, & red onion. Some friends looked at me weird, some said "oooooo". It was so good. I think I had that twice a week for the first month and then I decided to move on to something else. And buy 'something else', I mean a different Pizza. Since then it's kind of been "what do I have in my fridge?" And I've come up with some interesting combinations.
As I've been exploring with Pizza, I've also been exploring pizza crust. I've happened on this one, a nice thin crust that is, of course, gluten/grain-free. I do bake my Pizza on Pampered Chef stoneware, being a former Pampered Chef consultant (twice even). I have given away several PChef things over the years when I thought I wasn't going to be eating such things (ie: tomatoes) again. I kind of regret that now. But I'm okay. I'll manage until such a time as I get them again.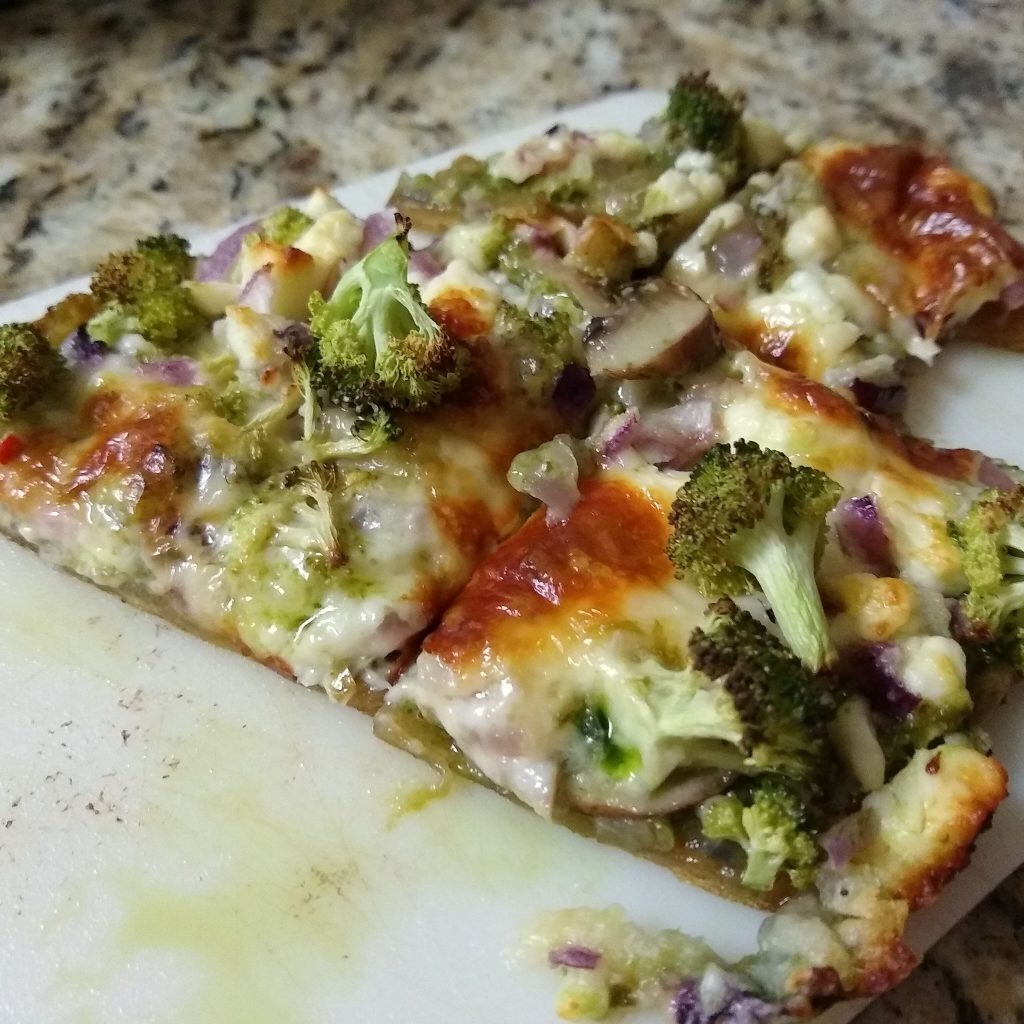 Back to Pizza. I cook my pizza on a pizza stone, and I have learned to use parchment paper cuz it just pulls out and it's ready to eat faster. I have also typically use a homemade basil pesto sauce, though in recent weeks I have been using a tomato based one. With all the fresh grown basil that I have in my garden, I really prefer that. I know you're probably wanting recipes for all of these, but honestly, this is one of those things where I completely eyeball it. I'll do my best.
The basil pesto.
Into the Magic Bullet goes olive oil (enough to make sure it blends), basil, shallots, garlic, a pinch of salt. Lots of basil. Overwhelm that Magic Bullet with basil. Blend until desired consistency and then freeze in either in ice cube trays or silicone muffin cups.
The pizza crust.
1/2 cup flour of choice.
baking powder: if using gluten-free flour 1/2 teaspoon, otherwise 1/4 teaspoon.
Pinch of salt.
1/4 cup water.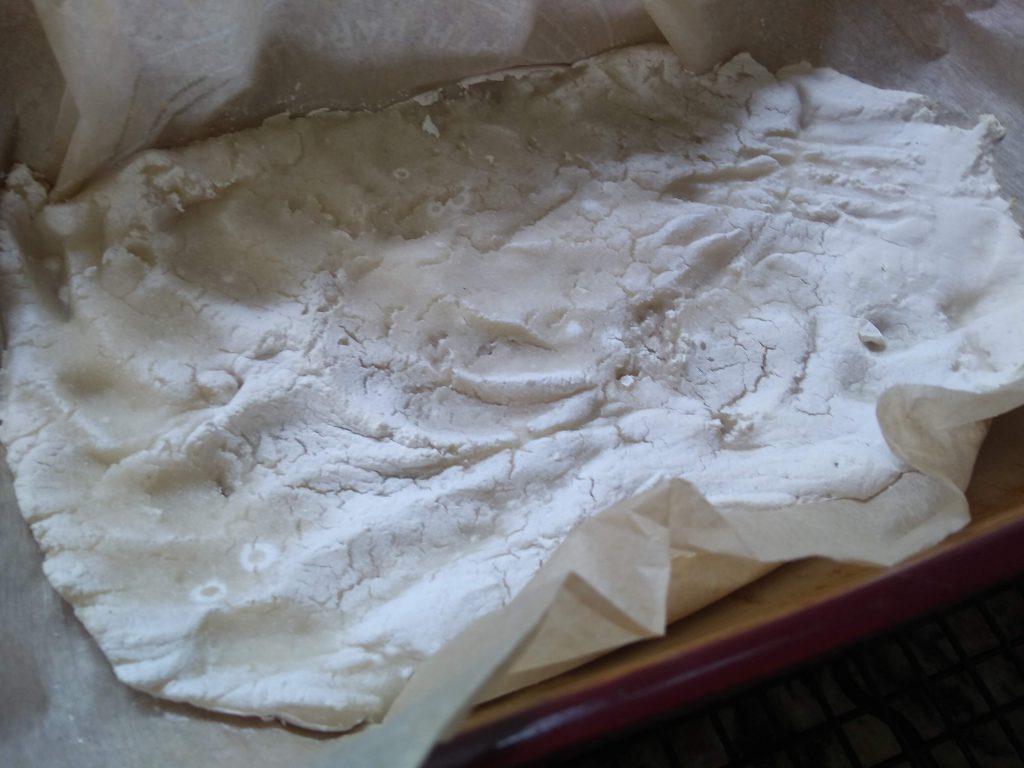 Mix and press into your pan. Add water or flour, if needed, til it holds together well.
Baked at 450 for 10 to 15 minutes, or until partially done. On stoneware, might be more like 15-20 minutes. Its still gonna cook with the toppings on, but it'll be a better texture if it's pre-baked.
The toppings.
As you prep your toppings, I have found it 1/2 cup is about right amount for this personal pizza, and think more than that and it gets a little bit overwhelming to handle.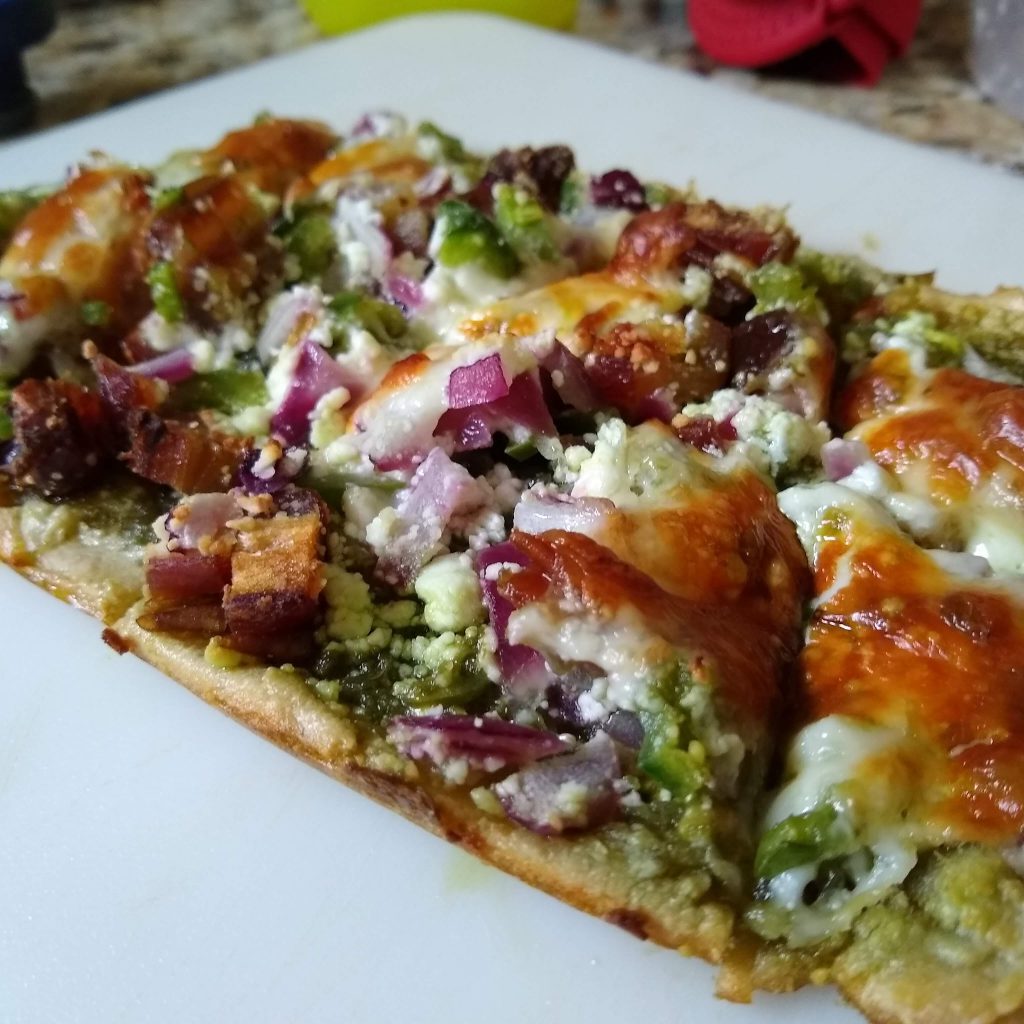 The cheese.
Experiment. Be curious. Play with your cheese.
The baking.
Put you're prepared Pizza back in the oven for about another 15 minutes, or until your cheese melts, still at 450 degrees.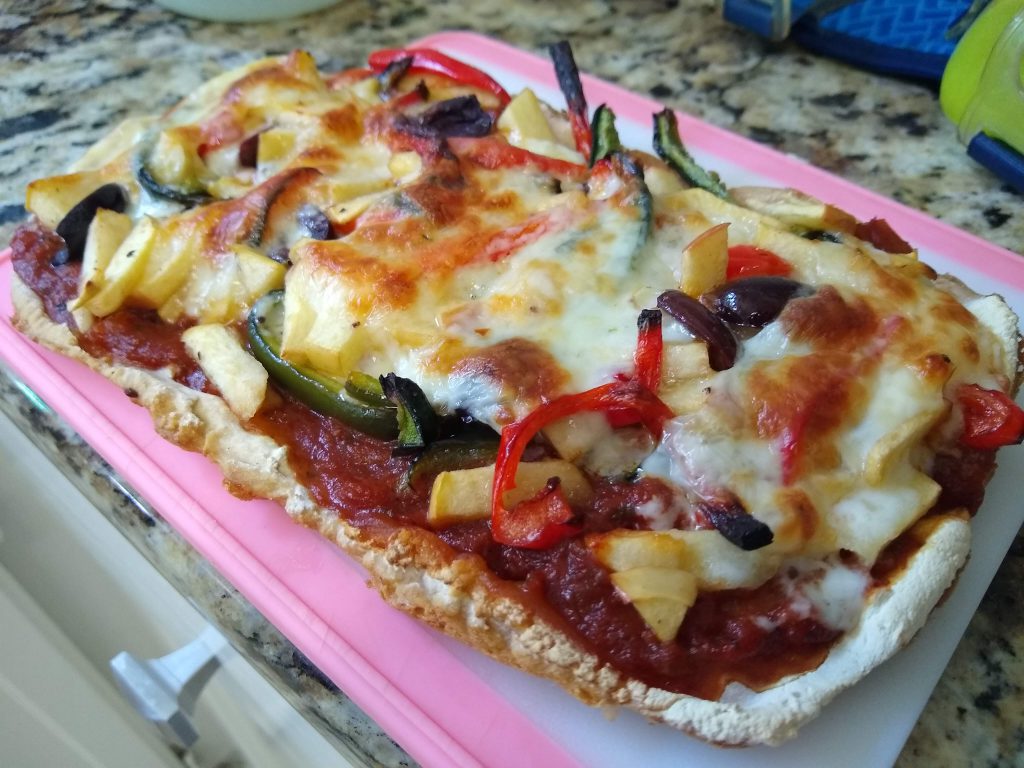 The eating. Oh the variety!
I tend to slide the parchment paper on to a small cutting board (you can see in pic above), cut it, and eat straight from there.
Your Pizza topping are only limited by the choices in your frig/pantry/cupboard. As you've read before – go play with your food!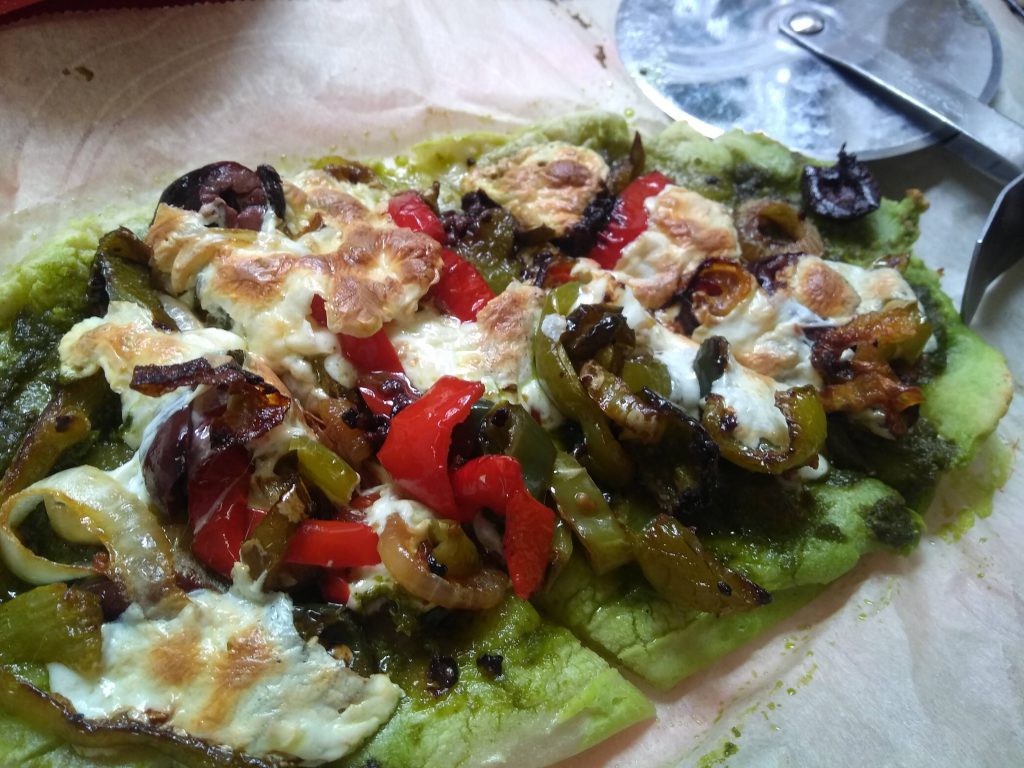 The one with okra was my least fav (not pictured).
I've even tried an apple pizza. It was ok. Need to experiment with fruit more…. Hmmm… I do have a fig jam that might be a good "pesto"…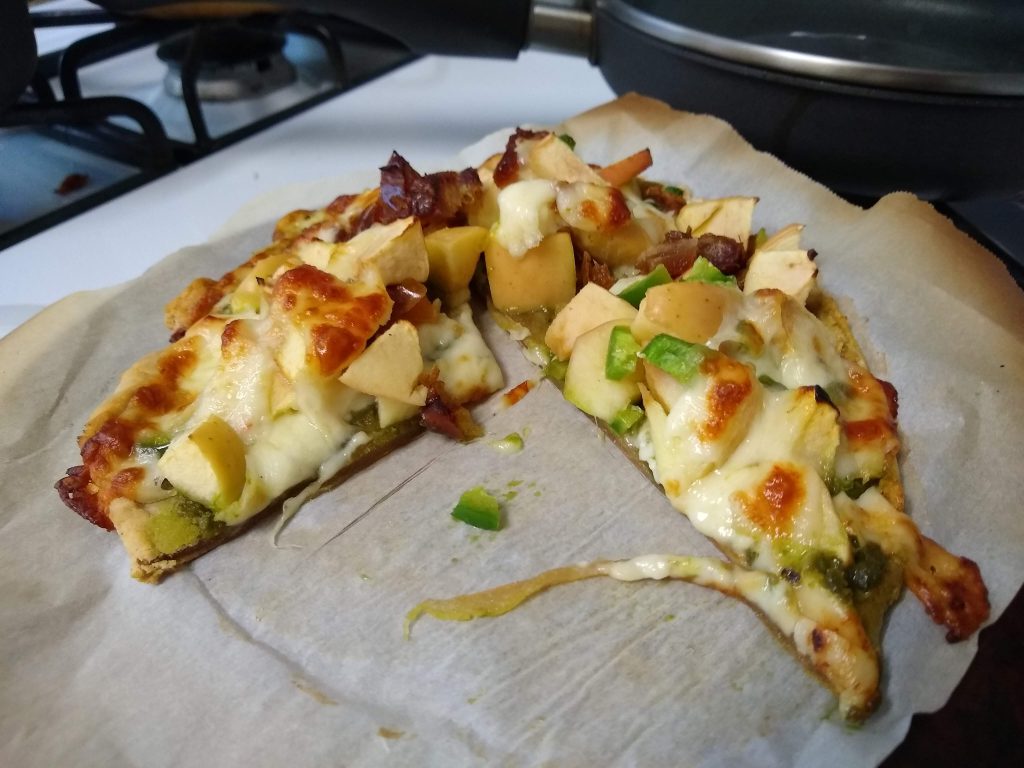 And, somewhere in the mix, I explored a polenta crust. But that's another post.