And now Mayor Adler is extending the Stay-in-place order thru August 15, so I'll keep the studio virtual until then, and re-evaluate. The good news – I have been playing with how to get a little bit of body work sessions in for you!
I'm on several facebook groups for massage therapy and COVID-19, and recently this was posted in one of the groups – a reply about risk level for this profession:  "…massage therapy is actually best placed in the extremely high risk category… It is important that the patient also be masked."
So if massage therapy is an extremely high risk activity for contracting COVID-19 due to proximity, and length of time spent with clients; and I'm high risk; combining those… and you'll see why I'm being overly cautious. Anything longer than 15 min in an enclosed space, with standard air circulation, significantly increases exposure. This is for indoors. So I got to thinking, what about outdoors? My driveway has a constant evening breeze, is shaded, and I can add a fan. Clients wouldn't come in to my house at all. And if 15 min indoors is the max, how would I feel with 15 min outdoors, at least to start?
For the month of July, I'll be offering Massage: the Driveway Series for current clients only. Sessions will be limited to 15 min. Cost will be $22.50/session (30 min if $45), and there will be 15 min in between clients so you avoid being here at the same time and I've plenty of time to wipe down & sanitize. Please note this means arrive on time, not early. I'll initially limit the number of sessions I do – partly to keep my risk down, partly to see how it does, and partly to honor our extended Stay-in-Place, and partly to rebuild my massage strength slowly. There will be a list of rules to follow, a questionnaire to fill out the day of your appointment, and everyone will be required to wear a mask. I've also come up with a way, when you're face down, to reduce transmission (thanks to my vet!) and be more comfy (ie no mask!) – please see the photo. After I receive & approve your questionnaire, I'll send an invoice that you'll need to pay prior to coming. You will not have access to the bathroom. I'm debating if you bring the sheet & pillow case, or if i'm providing; anything else that is needed as well (pillows, bolsters, etc). It has to go straight into the laundry either way. Depending how July goes, I'll consider opening up to a 30 min driveway session in August. Yes, it's warm out there, but very manageable. Cool, loose clothing will also help. All clients stay fully dressed, no face work, no feet work. It's gonna take me a little bit to get this on the calendar, and paperwork completed, but appointments should be up by Fri, 6/19. This link will take you directly there.
What do YOU think? Would you be interested in trying? I realize 15 min is short, but if there is something very specific you need addressed, and we know going in, it is totally doable. It'll get you through til later, right? I will get all the details out to you next week.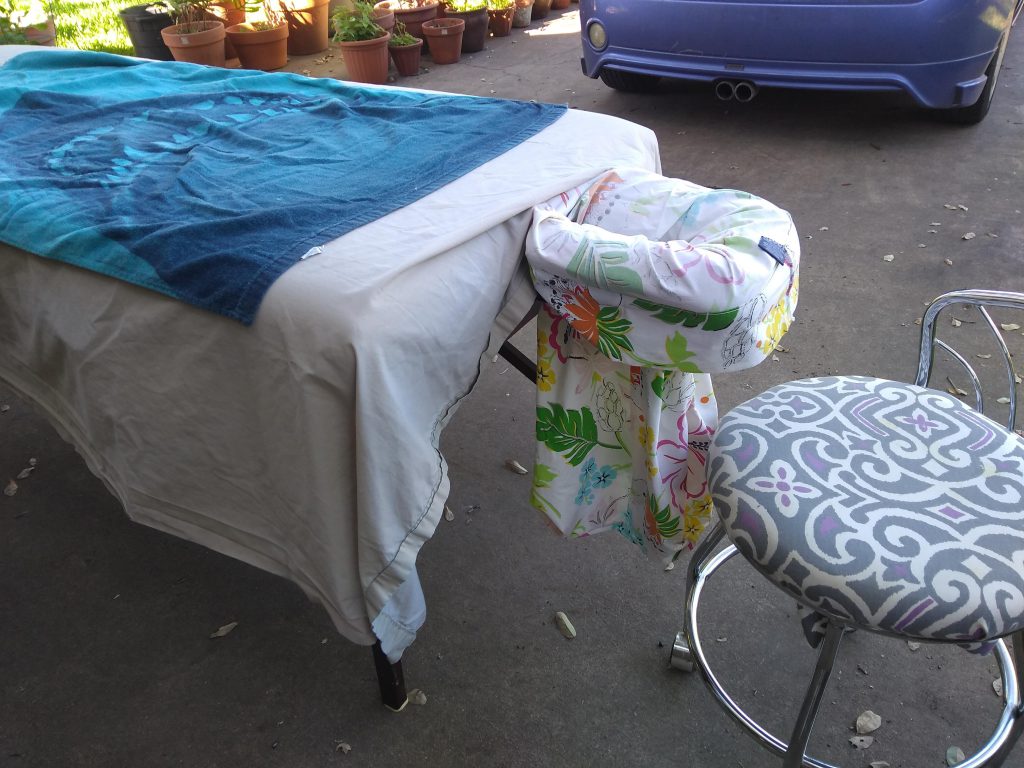 Pilates sessions, while not in as close a proximity, are similar because of duration. I acknowledge that I'm so fortunate to have more than 1 thing that I do, that I'm diverse, and willing to take on the virtual studio. 
If you are looking for a virtual session time that is outside my current availability as listed on my scheduler, please ask!
I am also realizing that I need to be really cautious with my neck. As I teach these classes online, I'm having to be extremely mindful of minimizing time in neck rotation, balancing out which way I'm looking, and minimizing time on the computer. It's all a challenge. I've had to take a big chunk of time off from the computer work I need to do to get the neck back under a good maintenance program. 
Life is not about waiting for the storms to pass…it's about learning how to dance in the rain. Unknown

Amazon Affiliate
In an effort to maximize income, I'm also become an Amazon Affiliate. As an Amazon Associate I earn from qualifying purchases. I'll be inputting links for various things I use – in virtual classes, in the new "Amber Eats" section of my website, in my YouTube channel descriptions, etc. You don't have to purchase that exact item, but if you've gone in thru a link I've posted, I get a small % of our purchase (that extends to 24h beyond that initial click). So YES! You can help me in other small ways too 🙂
Amber Eats
A new section to my website! i get lots of interest from the food pics & ideas I post in FB/Instagram, so I'm gonna start blogging my food journey. More to come!
That's if for this one… I so appreciate you all, and your continued support during these times!