in this edition…
what the heck is CST, & why are you studying it?
Pilates class updates
Put me in Coach!
Sharon Friendly Foods **new section**
Juice Plus, Tower Garden and other such back to the basics stuff
What the heck is CST, and why are you studying it, Sharon?
The workshop in Dallas I just attended was amazing. We actually go into the brain, worked w the structure, signaling, flow of fluids… I could keep going. The geek in me was VERY happy :). The whole intent of this workshop was to reset the brain so it can start self-correcting. We've gotten into patterns that lead to dis-ease, and this gets us out. After the workshop, my neck, shoulder & hips were not an issue. Good things happened. I've been practicing on some people, and they've also noticed a difference. When your cerebral spinal fluid starts flowing like its supposed to, you notice.
In general, this is how you can think of CST:
CST uses extremely light touch, so it is respectful and non-invasive, and the body quickly learns to trust it. In this way CST can release tension in the deepest layers of the body and balance the fluid flow in the central nervous system. Where fluid flows unrestricted, the cells can thrive and do their job. The result is health and vitality.
Massage for your brain and spinal cord. Not accurate, but opens doors to more in depth conversation.
Releases tension from the deepest layers of the nervous system
It rebalances and releases restrictions in the Central Nervous System, and everything connected to the CNS.
Pilates Class Updates
I have opened up February & March for registration. If you come regularly/weekly, i've already added you. please cancel for any days you will not be here. Please use the "2nd fill" for drop ins.
Feb has 4 weeks, March 5… so i'll price for March to accommodate those that will be on Spring Break.
4 for $48 February or March
5 for $60 for all of March
Yes! I've finally got a LOT of great Pilates Mat Class photos to use! Huge thanks to www.BonnieBerryPhotography.com for her continued awesome work. She's done all the photos for the Studio.
Put Me in Coach!
This month, instead of technique tips for run & swim, I thought I'd take a different view:  moving out to the bigger picture and taking a look at intensity of training. What I find with a lot of athletes, people in general, is that they push too hard all the time, or don't push hard at all.  For best results, 70-80% of your training should be in your "aerobic zone" – meaning you can carry on a short conversation, you're not producing 'the burn', and you're pretty much taking it easy. Depending on what you are training for, this may include a day of LSD…Long Slow Distance silly, not drugs.
The goal of doing a LSD session is to build the physiology you need to support any intensity. This means thru longer & slower runs (ie 1-2 min slower then your regular pace for running… "slow" is relative), longer swims (ie 500+ meters/yards non-stop), you increase capillary density in the areas you are using (legs for running, biking; shoulders with swimming) so your muscles are able to get more oxygen. You build more mitochondria to be able to DO something with that oxygen. AND you learn to burn more fat as fuel at higher intensities with LSD training.
This is not the only training you need to do.  You also need higher intensity days to train your other 2 energy systems: Lactic Acid – aka "the burn", and ATP-CP – short, high intensity chemically fueled work.  This is what track work and interval sets can do. This is typically one day a week.  This is why  having a plan is important. If you want some help w your track work, feel free to come join me as I coach the Austin Y-Tri athletes! Everyone gets a free session, and we have LOTS of fun!
Sharon Friendly Foods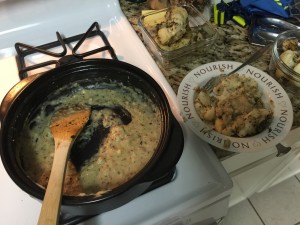 Yep, something new! As many of you may know, I've got lots of food issues…and find lots of unique recipes. I'm gonna share them with you! Cuz its always good try new things, right? So my first recipe I'm posting I keep experimenting with. I've shared it on FB & with friends, and they LOVE it. This last time I made it, I added a twist… gravy! Oh, you probably need to know the recipe, right? Roasted Cauliflower, aka Vegan Turkey. I can sit and eat almost a whole head of cauliflower. I was wanting something different this time, so I used the "drippings" from the cauliflower to make gravy, just like you'd do with a real turkey. Sharon friendly flour, but that's ok.  I've also started playing w the spices some, and if you google "Roasted Cauliflower Vegan Turkey" you'll find different recipes that use different spices. BOOM. Variety.
Juice Plus, Tower Garden and other such back to the basics stuff
One of the main reasons Istarted on Juice Plus was because I was having so much inflammation after I subluxed a rib & tore an erector spinae muscle back in August 2012. I wanted something natural to help me get rid of inflammation. I also had to put my hand in a pocket and not move the left arm for about 3 months as it healed – every time I took a deep breath, I re-injured the site, so no exercise. I needed to work on being a healthy as I could be through nutrition. I got just the Greens, since I tried a sample of the fruit and reacted (yeah, that's just a me thing). Not only did it help boost my energy, it increased my eating of veggies, AND my allergies improved.
I've had several clients this past year ask me about Juice Plus because of their allergies. From what I've heard so far, its helping.  Supplies come in a 4 month lot, so if you want to try it and see how it goes, give it 4 months. You can decide not to continue after that. No, its not cheap, but your health is worth it, right?  Take a look for yourself: sharonboon.juiceplus.com