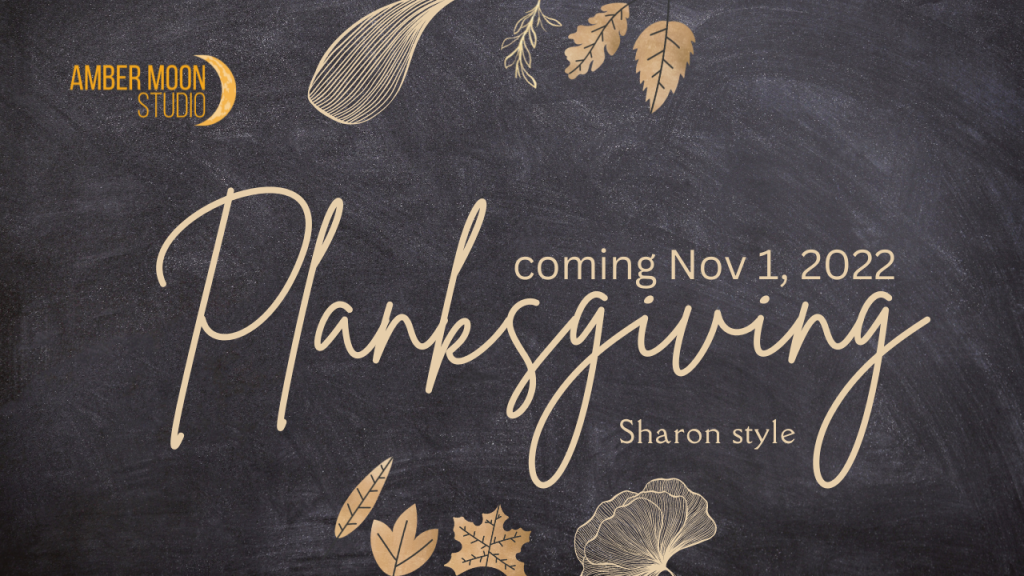 Welcome to a month of the Planksgiving, and doing it "Sharon Style". It's gonna be different.
Please take a moment to watch my video on WHY I'm doing Planksgiving (finally?).
You choose the option that works for YOU
You can do full plank, kneeling plank, hands on chair/counter, or at the wall. On the hands or on the elbows. Toys or no toys. Options EVERYWHERE to create success for YOU.
Within this month, get stronger, learn more about your body, and learn how to progress planks for the future. Additionally, I'm leaving this YouTube playlist open, so you can continue to use them as part of your regular fitness program. Maybe even part of your wellness journey?
What's the plan?
Starting Nov 1, 2020, I'll release 3 videos/week, and you do them as you works for you. Everything will be linked back to YouTube – email, FB, IG. The first week they will be released on Nov 1,2 & 3, the next 3 weeks on Mon, Tues & Wed. Why this way? So you have the freedom to choose. So you have… dare I say it?… OPTIONS on when you do it. Additionally, if you want a program you can stick to, it needs to fit into your regular schedule. Start it now, continue it later.
So, go ahead and schedule this in to your day now. The plan is 10 minutes max per video. Get your workout in, get on with your day.
There is no requirement for how many days you do this, however I'd like you to do all 3 work outs each week. If you want more, go for it. Repetition breeds familiarity, breeds intensity. You may find want to stick with week 1 for another round. All good. You do you.
Did I mention it is FREE? A free month of training with me!
I do ask 1 thing in return. When you do the workout, leave me a comment (FB, IG, YT). You'll need to be logged in to YouTube to leave a comment. Thumbs up are great, comments drive content.
Maybe you have a question. Ask it. I'll reply on the feed, or in the next week's video, as appropriate.
Maybe there was a lightbulb moment. SHINE IT.
Ready?