Your guide to everything under the moon, the Amber Moon, for the 2 weeks starting 2/7/22.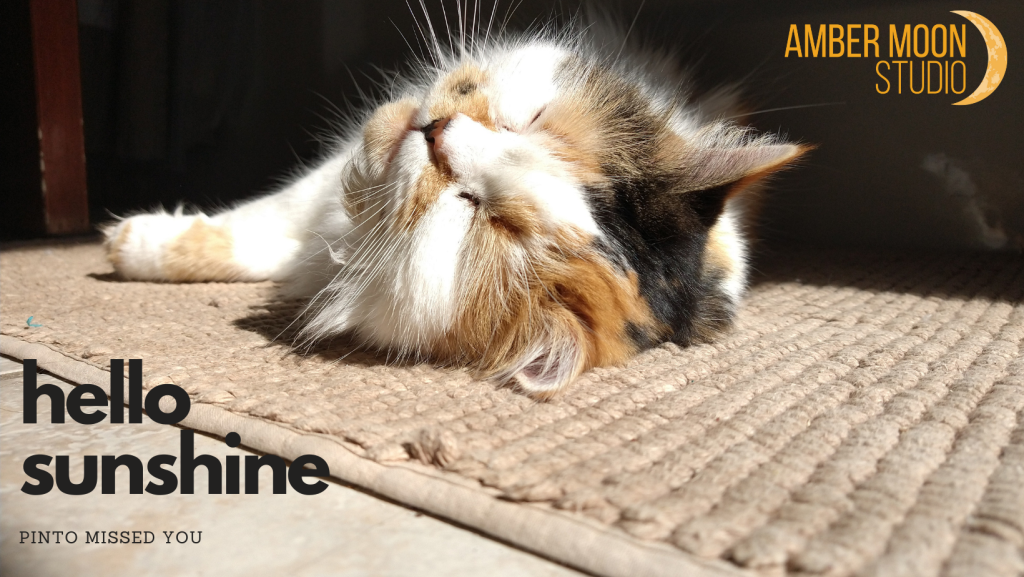 We made it thru a week of winter. Pinto, and I, both missed the sunshine terribly. You can totally see her smiling in pic.
As COVID numbers start to go down again (YAY), I'm looking at what the Studio will be shifting in March. As I pondered this, I realized I truly miss being OUTSIDE. I thoroughly enjoy getting back to "traditional" massage, I miss my Driveway series. So, I'm gonna bring it back.
I'm still working on it, but here's what I'm thinking:
In Taylor, I'll offer 15 & 30 min chair massages – neck & shoulders only. These can be 15 min apart since we are outside.
In Austin, I'll add 2 sessions on Wednesday AFTER I get done with my indoor sessions (515 or 6p, depending on the week). I've already asked previous driveway host Kathy if she's willing to offer her driveway, and let me borrow her table. The answer was "yes" to both. Now I'll start figuring out the details. I know I've missed a few of the people that signed up for later driveway sessions when I moved inside. Sessions will be 15 or 30 min, focused on a particular area or issue.
If you are interested in being on the list for when as I get the Austin sessions figured out, let me know.
I will have the details worked out by the next Hello Sunshine on 2/21/22.
Awesome Arms continues – Does anyone have the TRX? Should I keep it, or take it out of the rotation? Tues & Thurs at 535p. I'm seeing results. I hope you are!
March Madness – Give yourself a hand. Or 2. Much like the feet, we'll be focusing on opening up your hands, giving them a little love & attention. Wednesdays at 12:05 in March.
Reminder of upcoming Studio closings
April 4-8, 2022
June 22 (at 12n) – 28, 2022
September time off TBD
November 23-25
December Holiday break TBD
Fantastic Feet & where to find them
Find them HERE! One week in – and I'm having FUN. Missed the first week? No fear, its still on FB and YouTube. It continues thru the month – Wednesdays & Fridays at 1205p. Come learn about feet, make them feel better & be stronger. Equipment suggested – golf ball, flat resistance band, yoga block or such, tennis ball, but it can all be done without toys. Join be Live on Facebook, or register via Zoom – use code FANTASTIC to get it for free, or if you prefer to pay (for accountability), it's $4/session, $20 for the month.
Taylor openings
Tuesday, 2/8 at 2p
Thursday, 2/10 at 145 – 230p start open
Tuesday, 2/15 at 2 & 330p
Thursday, 2/17 at 230p
Openings subject to change
Austin Massage
For the next 2 weeks, these slots are currently running on full. Subject to change.
I'm working on tweaking the Friday times slightly. Again, more info in the next Hello Sunshine.
Classes & Group shenanigans for weeks of Feb 7 & 14, 2022
Tuesday
11a: Pilates Mat
5p: Everything Under the Moon
535p: Awesome Arms (FB Live & Zoom)
615p: Taylor Track Time! (Memorial Track, Taylor)
Wednesday
10:45a: Viniyoga
1205p: Fantastic Feet (FB Live & Zoom)
Thursday
11a: Pilates & BOSU
5p: Everything Under the Moon
5:35p: Awesome Arms (FB Live & Zoom)
Friday
10:45a: Viniyoga
1205p: Fantastic Feet (FB Live & Zoom)