One thing I've learned to love about our Texas heat is the Fall. Growing up in Indiana, it was just chilly. With my Maine/New Hampshire, even Alaska vacaction, I've a new found appreciation for the slightly cooler temps. Still do not want the Indiana winters, but that crisp fall air…. it also means my running season is coming. I love running in the cooler temps! For some odd reason, I've also named my Felt triathlon bike "Blue September". There's a quality ot the crispness of air that I just love.
I've got 3 more triathlon related events coming up this fall, working toward my 2nd ever IronMan 70.3 in November 2018. There's a group of us that are taking 18 months to build to it – several have never done anything more than a sprint distance race, and it's exciting (yes, already!) to see their progress! In September, there is a Sprint Tri in Kerrville, then I'm doing the swim leg (1.2 miles – easy peasy) the next day w 2 of these awesome athletes. Another one will be doing her first Olympic distance tri that same day. In November, I'll be doing an AquaBike (1.2 mile swim and 56 mile bike), and we'll have a different relay combo. About a month later, we start a 10k road race series we put together through various venues, culminating in a half marathon in March, and 2 of us doing AquaBikes in Galveston, and mixing up the 70.3 relay again.  If YOU would like to be part of this journey – either the running, or the 70.3, let me know! I'm happy to help coach you along!
In this post: 
Pilates class special for September

Run Technique work 

Plumeria for sale (donation to Austin Dog Alliance)

Pampered Chef – Fall Catalog is now out! 

Tower Garden Times

Studio Schedule & Closings
Pilates class special for September
Just cuz I want you to try it out, for new folks only, 4 classes in September for $40. If you've been coming, $48 for all 4, or 5 session drop in package of $75. Come try it out! Wednesdays at 530p (doors open 10 min before so you can get set up), and Thursdays 10a (ditto on the doors). Please register online to save your space ( Classes> Pilates)
Run technique work
I've had blurbs in these monthly updates about run form work, how about I show you? This is Dana, and these videos were made about 1.5 months apart. One the first one you can see how upright she is, heels staying low. On the second video, you can see a full body lean, she's picking up her heels & knees more, and just looks more comfortable. How'd she get there? After the first video, I gave her some technique work drills, as well as some specific strengthening exercises for what I saw that needed improvement. Dana is awesome in that she does the exercises, and wa-LA! Her run form has improved. The 2nd video is actually her third session of technique work.
videos to be uploaded momentarily…
Plumeria for sale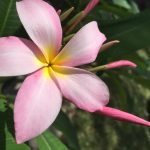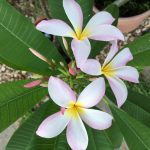 My vet sells plumeria plants, seeds & seedlings, with the proceeds going to the Austin Dog Alliance. I'm helping her out and pimping them here. Plants – $20-25; seedlings – $5; packet of 10 seeds – $5. Plants are a variety of colors, and the seedlings/seeds are a mystery. She's got a plumeria addiction, and they cross pollinate. If you want the donation for your tax write off, please send email me your receipt prior to delivery/pickup. Otherwise cash is preferred. I only keep a few in stock, so let me know what you want something so I can make sure it is here. Current stock: 2 plants (Mardi Gras, and Violet Jack colors), a plethora of seedlings, and several seed packets. Let me know which you want!
Pampered Chef – fall catalog is now out!
If you want a virtual catalog, here ye be! I'll have a show being submitted on Sept 2 for any new items you need & want. Here's a preview of the NEW items for this season!
Tower Garden Times
Yeah, I got nuthin' this month.
Want more info on the Tower Garden? Visit my Tower Garden website, send me an email, give me a ring!
Want more info on JuicePlus, filling in the gaps in your nutrition? Visit my Juice Plus website.
Studio Schedule & Closings
School's starting, but my schedule seems to be staying the same. For once. I like the schedule I'm currently on!
Closings – Labor Day (9/4),  CST workshop (10/4-11), Thanksgiving (11/23-24), Christmas (12/25), New Years' Day (1/1)
Mondays – 2:45-7:15p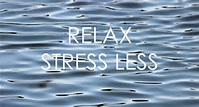 Studio hours: 2:45-5p
6:30-7:15p Track for Austin YTri
Tuesdays – 5:30a-4p
5:30-6:45a Track for Austin YTri
Studio hours: 8a-4p
Wednesdays – 10:45a-6:30p
10:45a-12p Viniyoga at the Y
Studio hours: 2:45-6:30p
5:30-6:30p Pilates Mat Class at the Studio
Thursdays – 5:30a- 4p
5:30-7a Bike Intervals on Trainers – only 3 more sessions left for this season – ends 9/21.
Studio hours: 8a-4p
10-11a Pilates Mat Class at the Studio
Friday 5:30a- 3p
5:30-6:45a Run Coaching for Austin YTri
Studio hours: 8a-3p