In the midst of #TheseCOVIDtimes, I've got so much gratitude, so much inspiration…as we embark on this 7th month, I'm taking the time to reflect. Join me on my journey!
Day 1: @Organzing4Good
This time, it started with missing my thyroid med because I was sleeping soundly. Before starting my immunoglobulin replacement therapy almost a year ago, I had very broken sleep. It was easy to know that I would be awake at 2a & take my thyroid meds then.
I've known Ryan for…ummm… over a decade now. We met through triathlon – a great thing the sport does, bringing people together. She's been a client for several years, and her weekly Pilates session, now virtual, has become "BizLates". She started her business several years ago, and I had the pleasure to be one of her guinea pigs. Yes, she's an organizer, but so much more. Organizes so much more than "stuff". She's brought her passion to her biz even more with COVID – she has an Instagram LIVE featuring non-profits every Thursday. She's all about the repurposing of stuff.
Prior to COVID, Ryan was just getting me going on Instagram. Not a big fan of being on the phone or the computer, courtesy of my thoracic outlet syndrome, I hadn't gone there. With an in-person studio, I didn't need to. I was working at capacity. Since I've had to pivot the Studio to be virtual, she's been there pushing, nudging, and sharing.
As I have more time & energy to spend on non-work stuff, I've really started to manifest some of the things she's been touting.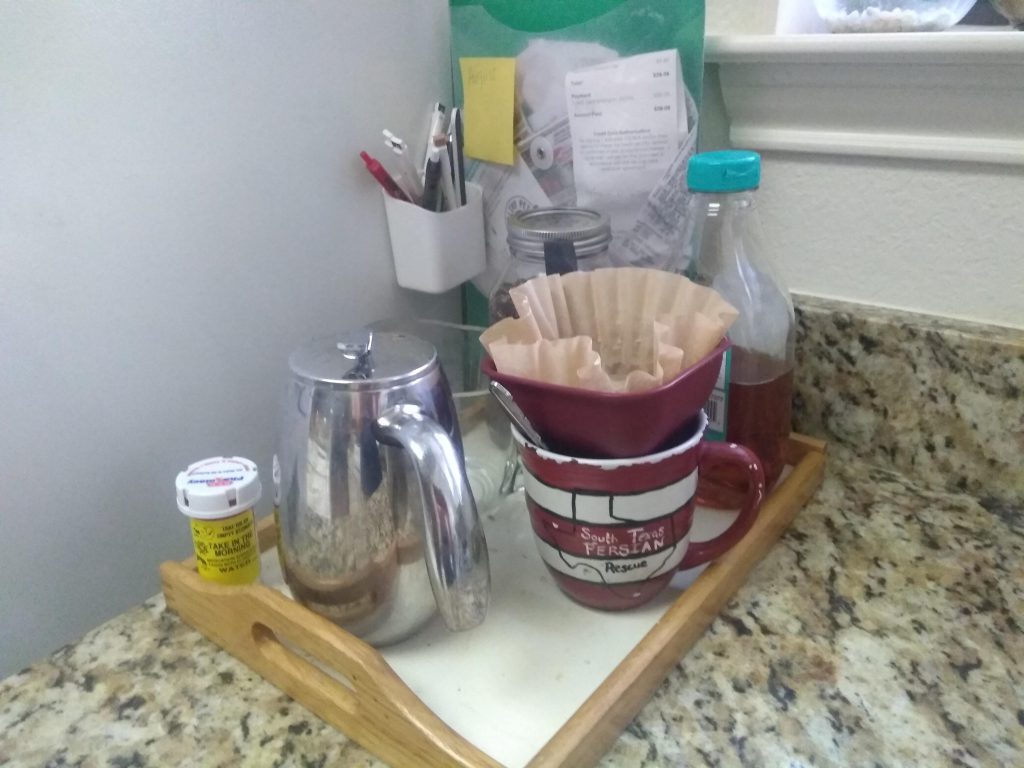 Which brings us back to the thyroid meds. And getting organized  so I'd easily remember to take it. So, what else do I do first thing in the morning that would pair well with this? Coffee. I have 1 cup a day. That's all I need. That's all I want. It's part of the wake up routine, along with fluffy time, meditation & journaling. So, put it where the coffee is. Take it as I start boiling water. All the coffee stuff in 1 spot so I have less to find/worry/do at the #crackofridiculous (I still get up early, but a much more reasonable 4 or 5a). I now have a Coffee Station.
What's that envelope of receipts behind it? You mean all those that went onto my desk & got lost, created clutter, etc? I tried the envelope there, then realized THIS is where I sort papers. It goes here.
These may seem trivial, but this is just the latest. Since COVID, I've posted several projects that help my flow – my organization. Ryan helped me shift my thinking, and bring in a new perspective. I'm deeply grateful for Ryan on so many levels, for our many conversations, for our idea sharing & brainstorming.